Former FHSU football coach now history researcher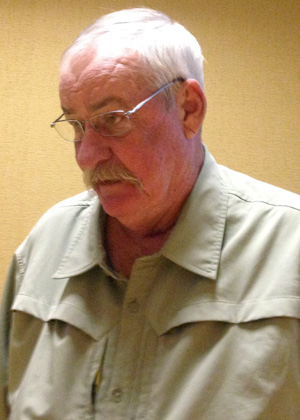 10/18/16
By Randy Gonzales
University Relations and Marketing
HAYS, Kan. -- As a former football coach, John Vincent puts together a game plan when he does historical research. Vincent, who is deep into the research of a local legend, gave a presentation Saturday at the 10th annual Smoky Hill Trail Association's conference, this year in Hays.

Vincent, who was the head coach at Fort Hays State University from 1985-89, said there is a correlation between preparing for an opponent and organizing a research topic.

"When you are developing a game plan you try to prepare contingencies for unexpected things that might come up," Vincent said.

That preparation has helped Vincent and his team in the research of Elizabeth Polly, the famed "Blue Light Lady." As the story goes, Polly assisted her husband, Ephraim Polly, who was a hospital steward at Fort Hays, during a cholera outbreak at the Army post in 1867. Mrs. Polly died during the outbreak, and is believed to have been buried atop or at the base of Sentinel Hill, about a mile from now Historic Fort Hays. There are accounts that Polly visited that hill in the evenings after working at the fort during the day and she requested to be buried there.

There have since been sightings of a ghostly figure dressed in blue walking the fields in the surrounding area of the hill. That spectral image is thought by some to be Polly. Vincent finds four accounts credible of Polly sightings, accounts that put together a time, place, date and name of the person who saw the apparition.

"The legend of Elizabeth Polly was popularized in the 1970s by a fellow by the name of Bob Maxwell," Vincent told those assembled at FHSU's Black and Gold Room in the Memorial Union. "He was a folklorist."

Maxwell, who had a career in law enforcement that included stints as Ellis County Sheriff and Hays Chief of Police, graduated from Fort Hays State and later served as Dean of Students in 1966 at the university. He also was an assistant professor in the English Department. A noted local historian, Maxwell researched Elizabeth Polly.

Vincent, however, is focusing on the life of Elizabeth Polly and not as much on her ghostly encounters with the public.

"We are not here to state whether she's a ghost or she's not," Vincent said. "My team and I are not ghost hunters. However, the legend of Elizabeth Polly gives rise to a tremendous amount of history."

Lacking definitive proof that Elizabeth Polly was at the fort in 1867, or even of her existence, Vincent detailed circumstantial evidence to make his case. Vincent showed copies of newspaper articles through the years that mentioned Polly, and he presented evidence of why those articles should be believed.

"They're not all making this stuff up," Vincent said. "Does it prove she existed? I think it probably helps.

"If you had to ask me to (draw) a conclusion, there probably was a woman here," he added. "I don't know if her first name was Elizabeth. I'm not exactly sure her last name was Polly. But there was some woman (who) filled that role (during the cholera epidemic), and she was more than likely associated with Ephraim Polly in some way."

One article described Polly as "a curious mixture of superstition and fanciful religion in her mental structure."

"Was there a woman who filled the role of Elizabeth Polly? That's what we're trying to determine," Vincent said.

There's even a tale of the outlaw Jesse James coming to Hays in the 1870s to visit Polly's grave on Sentinel Hill. Vincent's team of researchers want to tackle that thread of the Elizabeth Polly story next.

"We're going to continue to try to chase down the people in these stories and add as much detail as possible," Vincent said.

Also part of the presentation was Ethel Taylor, of Hays, who provided genealogy expertise, and Rob Wasinger, also of Hays, whose grandparents first saw the ghostly image of a lady in a blue dress and bonnet in a field back in 1917.

Vincent has been researching the Polly story since the 1970s. He hopes to put enough material together to publish a book.

"We're not ready to do that yet," Vincent said.

Vincent, 70, has been active in retirement. He has gone on about a half-dozen paleontology digs and around another half-dozen archeological surveys. Vincent even has a find named after him.

"I like a variety of things, but I don't like to be haphazard," he said.

After serving in Vietnam, Vincent earned his bachelor's degree in zoology with a minor in chemistry and physics at Fort Hays State and later completed two master's degrees at the university. He taught for 48 years and coached football in high school and community college as well as Fort Hays State in his career. He still follows the Tigers.

"We try to go to as many games as we possibly can," Vincent said. "I read everything in the paper about them. They're doing really well."

Other presentations at the conference were:
• A talk about "Buffalo Bill" Cody by Dr. Juti Winchester, assistant professor of history at FHSU.
• Dr. Ken Neuhauser, professor of geosciences at FHSU, revealed his findings of a magnetometer survey done at Lookout Station southwest of Hays this summer. In 1867 Indians raided the station and killed three men, who were said to have been buried there. His findings were inconclusive.
• James Drees, who earned bachelor's and master's degrees at Fort Hays State, gave a talk on Cody's buffalo shooting contest with Bill Comstock.
• James Leiker, who earned bachelor's and master's degrees at Fort Hays State, gave a lecture on buffalo soldiers at Fort Hays.
• Dr. Elton Beougher, who taught math at FHSU for 32 years, gave a lecture on galvanized Yankees.
• Ken Weidner gave a presentation on Cheyenne culture.
• Rod Beemer talked about George Armstrong Custer and the Smoky Hill Trail.