Volleyball team building successful program, scholarship at Fort Hays State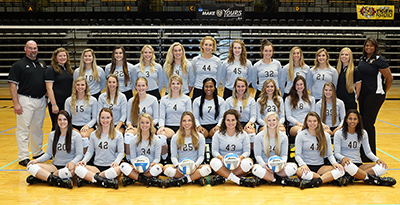 10/12/16
By Diane Gasper-O'Brien
University Relations and Marketing
HAYS, Kan. -- Members of the Fort Hays State University volleyball team have been learning it takes time to rebuild the program back to its glory days of the early 1980s and early '90s.

Kurt Kohler, in his eighth season as the Tiger head coach, is teaching his players the virtue of patience in other areas as well.

In their fifth year of Pass, Set, Pink Night at Gross Memorial Coliseum, the Tigers earned more than $1,600 from the sale of pink T-shirts, a silent auction and private donations.

That pushed them over the top of the $10,000 mark necessary to establish an endowed scholarship. The volleyball team has been working toward that goal since 2012, to develop a scholarship to benefit FHSU students who are directly impacted by cancer.

"I'm really glad we're going to be able to help out some students," said Sydney Dixon, a sophomore outside hitter from Louisburg.

Pass, Set, Pink scholarships will be awarded to students who are either dealing with cancer themselves or have someone in their family fighting the disease.

"There are college age kids with younger siblings that they have to help with when someone in their family is dealing with cancer and is having a hard time keeping up with everything," Dixon said.

Callie Christensen, a junior middle hitter from Raymond, Neb., agreed.

"I think it's important for sports teams to give back," she said. "I'm fortunate to be here playing volleyball, so I'm glad to be able to help others."

The Tiger volleyball players personally visited businesses around town, picking up gifts for the silent auction.

"Everyone was really open to giving donations," Christensen said. "The community of Hays is so college friendly."

Students will now be able to fill out applications for the scholarships for the 2017-18 school year.

"We're always sending money to charitable organizations," said Kohler, who instituted a fundraising program for his team when he came to FHSU in 2009. "We thought, 'Why not help out some of our own students?' We thought this was a way to make it easier for some students who might be struggling with finances because of cancer in their family."

During his first three years as the Tigers' coach, Kohler said the team awarded whatever money it earned that particular year to students in need.

Then he learned that if they could raise $10,000, they could start an endowed scholarship.

"I think the girls have enjoyed the opportunity to help others," Kohler said. "Once we start giving the actual scholarships, this is the group that will see the rewards of it. This is a really good thing."

It got even better Tuesday when the Tigers won both of their non-conference matches, pushing them to 18-5 this season and within two victories of back-to-back 20-win seasons for the first time since the '03 and '04 seasons.

The 6-foot, 2-inch Christensen is the team's blocking leader with 94 total for the season. That number is far and away the best in the tough MIAA conference, where she also ranks second in the blocks-per-set category with a 1.19 average.

Christensen was playing on a club team out of Lincoln, Neb., when FHSU began recruiting her.

It took just one visit to campus to convince Christensen Fort Hays State would be her home for the next four years.

"The facilities are great, and I really liked the team and the direction the program was headed," said Christensen, who was in third grade the last time FHSU had consecutive 20-win seasons.

"And I liked the prospect of playing right away," added Christensen, who earned a starting position her freshman year.

The idea of being part of an up-and-coming program also appealed to Christensen.

"It takes time to build," she said, maybe referring to both the volleyball team and its Pass, Set, Pink scholarship.

Kohler took over a program that had gone 28-67 combined in its three previous years. After the Tigers won just seven matches in each of his first two years at the helm, they have won at least 13 per season ever since, including 20-win seasons in 2012 (23-14) and last year (21-13).

"It's fun to be a part of all this," Christensen said.

Tiger fans can be a part of that fun, too, beginning with Friday's 6 p.m. home match at GMC vs. the University of Central Oklahoma. UCO (20-1) is ranked 10th in NCAA Division II.

Coincidentally, UCO's only loss this season was to the University of Central Missouri, another nationally ranked team that Fort Hays State upset in a Sept. 30 match at GMC.

All but one of the Tigers' losses this season have been to nationally ranked teams. Following Friday's action, the Tigers will be at home again the next day, hosting Pittsburg State University in a 2 o'clock Saturday afternoon match.

For a recap of Tuesday's matches and to find the remainder of FHSU's schedule, visit the Tiger athletics website at www.fhsuathletics.com.