Criminal Justice Club members, faculty place in regional competition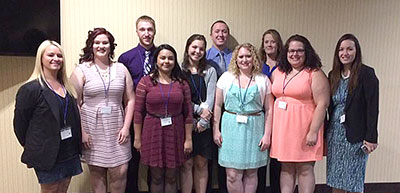 11/15/16 sds
Eight members of the Fort Hays State University Criminal Justice Club recently competed in the American Criminal Justice Association-Lambda Alpha Epsilon's Region 3 conference in Lincoln, Neb. Students were accompanied by Dr. Tamara Lynn, assistant professor of criminal justice, and Kweilin Lucas, instructor of criminal justice.

Students and faculty competed in several competitions: knowledge about the association and Lambda Alpha; corrections; criminal law; juvenile justice; police management and operations; firearms; physical agility; and crime scene investigation.

Competitions were separated into a lower division for students who have completed less than 70 credit hours and an upper division for students who have completed more than 70 hours. Faculty competed in the professional division.

Four students placed in the top 10 of the upper division:
Baron Green, Oberlin senior, placed fifth in knowledge.
Anneka Sundell, Salina sophomore, placed seventh in criminal law.
Karissa Langlois, Yukon, Okla., senior, placed eighth in ACJAE-LAE.
Julie Balzer, Hays senior, placed 10th in criminal law.

In the professional division, Lynn placed third in corrections and juvenile justice.

James Abla, Liberal senior, Karla Garcia, Wichita senior, Casey Higgins, McPherson junior, and Courtney Marquez, Kinsley junior, also competed.

In addition to attending the conference, club members also volunteered at the Fresh Start Home, a shelter for homeless women.