Department of Art and Design to hold art sale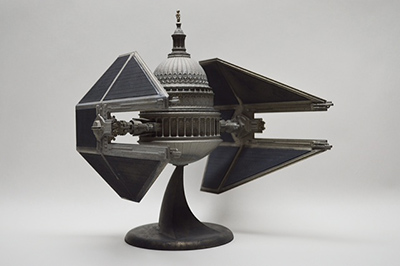 11/09/16 sds
HAYS, Kan. -- The Department of Art and Design at Fort Hays State University will hold its annual Art Scholarship Sale from 9 a.m. to noon on Saturday, Nov. 12, in the first floor of Rarick Hall.

Participants can browse and purchase prints, paintings, ceramics, sculptures, handmade books, hand-printed T-shirts and scarves. Other items for sale include an original Kris Kuksi sculpture, Pete Felten's buffalo, a John C. Thorns painting, and works from current and retired professors.

Guests can also bring or buy T-shirts and have hand-carved designs printed on them.

All proceeds go to fund student scholarships.
Cutline: 3D art print "Imperial Rights Fighter" by Kris Kuksi