Department of Music and Theatre presents playwright's version of Stoker's 'Dracula'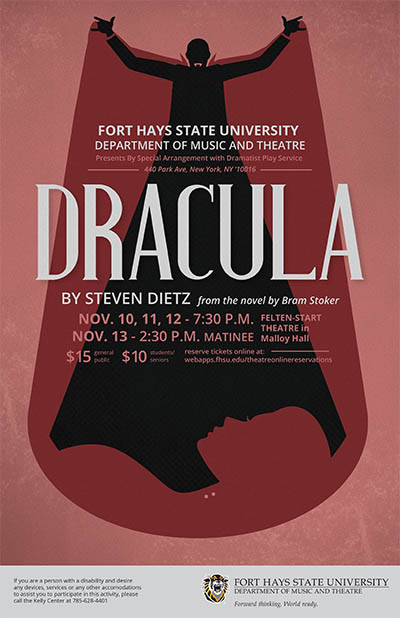 11/07/16 tw/kb
HAYS, Kan. -- The Department of Music and Theatre at Fort Hays State University will present a new theatrical take on a classic novel from Thursday through Sunday this week.

"Dracula," Bram Stoker's legendary novel, turns 120 this year and this new adaptation restores the suspense and seduction of the classic novel to the stage. Steven Dietz faithfully captures a thriller that mesmerizes and enchants.

Rich in fear and terror, Dietz paints a wickedly theatrical picture of Stoker's seductive fanged beast, Count Dracula, that plays beautifully on the stage.

Tickets - $15 for the public and $10 for students and senior citizens - can be reserved online at https://webapps.fhsu.edu/theatreonlinereservations. Tickets can also be purchased at the door.

All performances are in the Felten-Start Theatre in Malloy Hall on the FHSU campus. Performances are at 7:30 p.m. Thursday, Friday and Saturday, Nov. 10, 11 and 12, and at 2:30 p.m. Sunday, Nov. 13.