FHSU Commencement change to provide separate ceremony for graduate students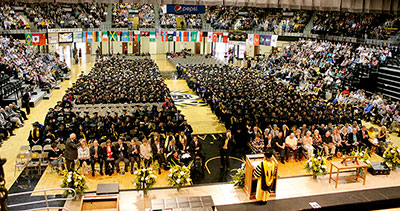 11/02/16 kb
HAYS, Kan. -- Commencement 2017 at Fort Hays State University will see master's and education specialist graduates with their own commencement ceremony at 2 p.m. Saturday, May 13, in Gross Memorial Coliseum.

The graduate commencement will be for all five academic colleges in the university.

Undergraduate commencement for bachelor's and associate degrees will again be in two parts.

Commencement for two colleges, the College of Science, Technology and Mathematics and the College of Arts, Humanities and Social Sciences, will be at 6 p.m. Friday, May 12, in Gross Coliseum.

Undergraduate commencement at 9 a.m. Saturday, May 13, will feature three colleges: W.R. and Yvonne Robbins College of Business and Entrepreneurship, the College of Education, and the College of Health and Behavioral Sciences.