FHSU focuses on entrepreneurial spirit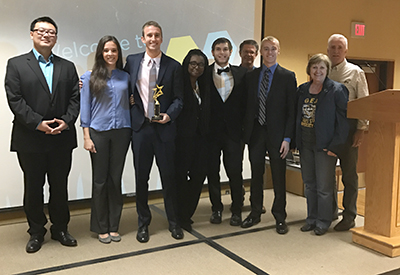 11/14/16
By Randy Gonzales
University Relations and Marketing
HAYS, Kan. -- The winners of this past weekend's Kansas Startup on the Fort Hays State University campus think they have an idea that will make them millions. If so, the FHSU initiative will have helped make it possible.

Kansas Startup originated at FHSU four years ago. Its goal is to bring entrepreneurs together to launch new business ideas. This weekend was the fifth event. Another event is planned in February in Barton County, said event organizer Henry Schwaller IV, director of the Center for Entrepreneurship at FHSU and instructor of management and entrepreneurship. This weekend's Kansas Startup was the biggest in FHSU and Kansas history, he said. There were 72 participants and 10 teams. There were about 20 pitches made opening night Friday.

"There's nothing like it," Schwaller said. "The ideas and the work that went into the ideas were much more refined and thoughtful than in the past. It was really a great atmosphere."

"We appreciate Startup Weekend," said Parker Holterman, a senior business major from Scott City, who came up with the winning proposal.

"It's an opportunity for people our age to put forth viable ideas -- entrepreneurial ideas," said Bria Carder, a senior general science major from Lawrence. "As more viable companies come out of Startup Weekend, you will only get more investors and more people interested."

Holterman and Carder's group, Stock Solutions, pitched to a three-judge panel an idea to replace the manufacturer's stock on an AR-15 rifle with their modified stock that would produce both a faster rate of fire and less recoil. After deliberation, the judges awarded the six-member team the first-place prize of $1,000 and a trophy.

"It feels very satisfying that all of our hard work and collaboration has paid off and we have been recognized for our efforts," Holterman said.

Holterman, who is federally licensed to sell firearms, said he came up with the idea for a modified stock about a year ago. Carder, the other original team member, knows of a potential manufacturer. The other four members, who joined Stock Solutions after their pitch on Friday did not receive enough votes to move forward, were Taissa Carvalho, Tanner Halligan, Zewei He and Brandt Saiz.

Now, the Stock Solutions team will seek to have a prototype made.

"We're getting the money to invest, and then we're going straight to the engineers of these manufacturing companies who have agreed to work with us already," Carder said. "I feel our financial model (is) sound. All of our figures we came up with for revenue were very low-ball figures, like only capturing one percent of the market. We're going to be making millions with it in a few years."

That entrepreneurial spirit on display over the weekend was what Schwaller envisioned back in 2013. It's part of FHSU being a leader in entrepreneurship.

"It brings people together," Schwaller said. "They're able to do some pretty amazing things that they would not do alone. That's pretty cool."

The runner-up team, which received $500, was Legacy Creations, a group which pitched the idea of starting a video production company that would produce short documentaries on family histories. The third-place team, which received $250, was Nav Tag, a group which had the idea of putting GPS tags on livestock. Receiving honorable mention recognition was 360 Gym, which pitched the idea of building an app for mobile devices which would help people find gyms to work out in.

"This is a tremendous learning experience and has spun out actual businesses," said Mark Bannister, dean of the W.R. and Yvonne Robbins College of Business and Entrepreneurship at FHSU. "It raises the level of energy and focus on entrepreneurship."

Cutline: Members of the winning team Stock Solutions with the three-judge panel.