FHSU grad all jazzed up about return to Hays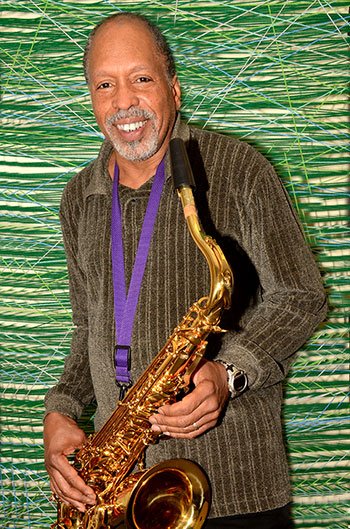 11/15/16
By Randy Gonzales
University Relations and Marketing
HAYS, Kan. -- Music lovers will be in for a treat Thursday when an accomplished musician -- and Fort Hays State University graduate -- is in Hays to perform. Doug Miller, a tenor saxophonist, will perform as a guest soloist with both of FHSU's jazz ensembles at a 7:30 p.m. concert at Beach/Schmidt Performing Arts Center in Sheridan Hall.

Miller was in Hays in March with the Count Basie Orchestra as part of FHSU's Encore Series. While in town, he reconnected with Brad Dawson, who was a student at Fort Hays State at the same time as Miller, a 1974 graduate in music education. Dawson, assistant professor of music at FHSU, organizes the concert performances on campus. He asked Miller to come back and perform with the jazz ensembles.

"It's exciting for me; being back there in March was really exciting," said Miller, who now lives in Virginia Beach, Va. "I hadn't been back to Fort Hays State since the early 1980s. When I was back in March, that was a real treat.

"Now, to come back again and interact with some of the music students there is pretty important for me," he added. "I remember when I was a student in the music department. Being able to talk to and interact musically with professional musicians was a rare treat."

Miller will get a chance to interact with FHSU students in rehearsal for the concert.

"He will get along fine with the students," Dawson said. "They will really enjoy his playing and enjoy visiting with him."

Miller, who grew up in Grambling, La., followed his older brother, Clarence, to Hays. Clarence went to boarding school at St. Joseph's Military Academy, now known as Thomas More Prep-Marian High School. Miller saw his older brother returning home for the holidays in his uniform with shiny ribbons and decided he wanted to go to school there, too.

While in high school, the Miller brothers formed a band called "The Soulful Seven." The band gained notoriety, winning a contest to go to Hollywood to record some songs. After graduating from SJMA, Doug Miller decided to go to college at Fort Hays State so he could stay in the band.

Miller remembers being pushed to become better by Lyle Dilley, a longtime professor of music at Fort Hays State.

"He saw some potential in me (and) he was motivated to single me out sometimes, push me harder," Miller said.

Miller said his time in Hays led him to understand what career path to take.

"My whole involvement in music, that was a pivotal point in my life," he said. "When I made the decision I wanted to become a professional musician, it was there."

Miller has been a member of the Count Basie Orchestra since 1989, traveling the world performing for jazz aficionados.

"Playing with the Count Basie Orchestra is a thrill because the level of musicianship is very, very high," Miller said. "The band has such a legacy of being one of the greatest jazz bands ever.

"Even after Count Basie's death, we still have a responsibility that our performances keep a high standard," he added. "It's a challenge and a responsibility to continue the legacy."

Dawson said jazz "is purely American music, the place where it all started."

"I think it's important that this music be part of the culture here in Hays and western Kansas, so people can experience it live," Dawson said.

Miller first played the clarinet growing up, and didn't switch to the saxophone until he was in junior high school. There's just something about the sax and jazz, Miller said.

"The sound of the saxophone is a very exciting sound," Miller said. "It's very intense and has a wide range of musical expression."

Tickets for the concert are on sale at the door on Thursday. They are $6 for adults, $4 for senior citizens. Students of all ages will be admitted free.