FHSU men's soccer hopes for super showing at home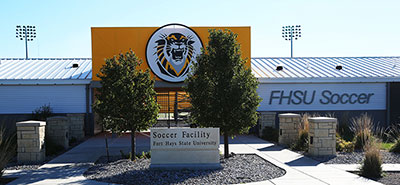 11/17/16
By Diane Gasper-O'Brien
University Relations and Marketing
HAYS, Kan. -- They have played only six of their 18 games at home this season, so they have become accustomed to playing quality soccer after long road trips.

But don't think that members of the Fort Hays State University men's soccer team aren't excited about playing on their home field this weekend when it hosts an NCAA Division II Super Regional.

The nationally ranked Tigers (16th in NCAA Division II) will play host to 20th-ranked Lindenwood (Mo.) University at the FHSU Soccer Stadium Friday in the Central Region championship match. Start time is set for 7 p.m., following the Midwest Region title match between two other Missouri universities, No. 6 ranked Rockhurst and Drury, at 4 p.m.

The winners of those two games will meet at 1 p.m. Sunday at the FHSU stadium for a chance to advance to the national semifinals Dec. 1 in Kansas City, Mo.

Fort Hays State has performed well no matter where it has played this season -- posting a 13-4-1 mark, including a 5-1 record on its own field. The Tigers' only loss at home this season was a 3-2 decision to Lindenwood on Oct. 9. Since then, the Tigers won six of their last seven matches to close out the regular season.

Thirteen of the Tigers' matches have been played all across the country, playing as far away as Washington State and traveling south to Texas and north to North Dakota.

"Well, we're very used to traveling," said Brett Parker, who has served as the team's head coach since FHSU started its soccer program in 2011.

"With that being said, we'd much rather play at home," he added. "There are a lot of advantages to not traveling: getting to sleep in your own bed, familiarity with your surroundings, not tired from traveling, just a lot of things that could make a difference."

No matter where it has played, FHSU has built a successful program and will be looking for its third consecutive Central Region title.

Parker hopes this year's squad, which he said probably is FHSU's deepest team ever, can advance the farthest in post-season action.

The Tigers have lost their Super Regional championship matches the last two years, including one on penalty kicks to Rockhurst on the Hawks' home field last year.

"We've been agonizingly close," Parker said of advancing to the final four of the national playoffs.

So far, the Tigers have met all their season goals, including earning the No. 1 seed in the Central Region to get the Super Regional in Hays.

"That was one of our goals, to host a regional, and we accomplished that," Parker said. "We did what we needed to do to host it."

Nonetheless, Parker said, there is just one goal in mind as Fort Hays State prepares for Lindenwood. It will be the third time that the Tigers and Lions have met this season, each winning on the other's home field.

"We definitely know each other pretty well, know what to expect," Parker said. "Our main goal is to win Friday night. That's all we can be concerned with. There's no need to look past that."