FHSU's Doe ready to sack opponent in bowl game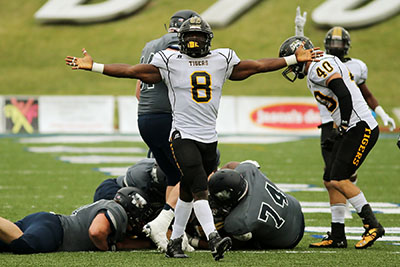 11/23/16
By Diane Gasper-O'Brien
University Relations and Marketing
HAYS, Kan. -- Fort Hays State University football fans might have wondered the past two seasons why the Tigers' star defensive end was wearing the No. 8 jersey, a number more often worn by quarterbacks and players in skill positions.

That number must be special to him for some reason, fans concluded.

Even for those not familiar with how uniform numbers are assigned, it didn't take long to realize that No. 8 -- Sie Doe Jr., whose last name means "blessed" in his culture -- was blessed with some special athletic talent.

Public address announcer Ken Windholz dragged out the name "See-ee-ee-ee Doe-oe-oe-oe" a lot during the 2015 and '16 seasons.

Doe used his cat-quick moves to record 146 tackles, including a school record-tying 21.5 quarterback sacks, during his two-year FHSU career. He set the single-season school sacks record with 15 this fall en route to being chosen MIAA Defensive Player of the Year.
,
The 6-foot, 1-inch, 230-pound Doe will try to help the Tigers accomplish something special when they take on Eastern New Mexico University in the Heart of Texas Bowl in Copperas Cove, Texas, on Dec. 3.

This marks the first time in FHSU football history that the Tigers (7-4) have advanced to postseason action in consecutive seasons. A win over Eastern New Mexico would be the first postseason win ever for the Tiger program.

Doe has one more time to don that No. 8 FHSU jersey, and he plans to make the most of it.

"This is another opportunity to take a step forward for our program," he said. "I tell other players you need to leave this program better than what you found it."

That's the kind of leadership that Ike Equae, FHSU's defensive line coach, has come to expect from Doe.

"He's a team guy; he really wants everybody around him to be the best they possibly can," Equae said. "He's that kind of leader; he wants others to watch him perform and follow behind him."

Equae wasn't just talking about football, and neither is Doe when he calls himself "relentless."

Doe revealed the reason for wearing the No. 8 jersey. Born on the Ivory Coast in May 1993, Doe escaped a civil war in West Africa with his mom and his younger sister, Kadija, when he was 12 years old. They landed in Buffalo, N.Y., then moved to Cleveland, Ohio, where his sister died at the age of 8 from an illness when Doe was in high school.

"My sister and I were really close, and I've worn No. 8 ever since she passed away," Doe said.

Equae started recruiting Doe out of Butte College, a two-year community college in California, in the spring of 2015.

Doe had established himself as one of the best defensive ends in the country at the community college level, leading Butte to an undefeated season and national championship his freshman year, then earning multiple postseason honors as a sophomore. But Doe's first question to Equae had nothing to do with performance or his chances of playing immediately at FHSU.

"I asked him if number 8 was available," Doe said. "I explained to Coach Ike that if I couldn't get that number, I wouldn't come here."

Lucky for Fort Hays State, standout defensive back Nathan Lindsey, who wore No. 8 for the two seasons prior to that, had moved on to the NFL.

The NFL is where Doe has aspirations to be someday, and Equae won't bet against him.

"He is probably one of a handful of players who absolutely wants to be the best he can possibly be, in every facet of the game," Equae said. "He is the one player up here in the office the most watching film. He wants to evaluate not only himself, but the people he is playing against, too."

Equae witnessed that persistence in Doe's first year at FHSU.

"After about the fourth or fifth game, people were double- and triple-teaming him and chip blocking," Equae said. "But he did not let that stop him. He has a motor that will not stop."

Then at the end of the 2015 season, Equae, who had just completed his second year of coaching at FHSU, learned that Doe had earned honorable mention honors in the MIAA, one of the top NCAA Division II conferences in the nation.

Doe appreciated the recognition, but he wanted more.

"He came into my office and was very upset about getting (honorable mention)," Equae said. "He wanted to know what to do to become one of the best in the conference. So we made goals, and he never wavered from that."

Doe returned to California last summer to put in extra work.

"I'd wake up at 4 a.m. and go run, go lift then go to the field three times a day and work on my technique," Doe said. "I've watched (NFL players) to see the things they do to be successful. It's not just about talent. It's about the work you put in during the offseason."

When he returned to Hays for his senior campaign, "you could tell he was definitely on another level," Equae said.

Indeed.

In addition to his 15 quarterback sacks, Doe had 18.5 tackles for loss this season and five forced fumbles, which ties him for first in the nation in NCAA D-II. He reached his goal of being named to the first team in the MIAA -- and was named the top defensive player of the year to boot.

Doe said he always knew growing up he wanted to play professionally, but it was a different kind of football.

"I had played soccer my whole life, and I wanted to play professional soccer like my cousin," he said of Darlington Nagbe, a midfielder for the U.S. men's national soccer team who also plays for the Portland Timbers in Major League Soccer.

"But I transferred high schools my sophomore year, and the football coach said he wanted me to try football," Doe continued. "He told me in the U.S., football is the thing, that I could get scholarships to get my college education paid for, so I thought, 'OK, I'll try football.' So I grew into a football body."

Doe took his soccer skills with him onto the football field.

"It's all about your feet and quickness in soccer," he said. "So that definitely helps me, having played soccer for so long."

Doe said his work ethic comes from his mother.

"Her struggles, what I've seen her go through and still be relentless," he said, "that's my No. 1 focus and the thing that inspires me."

But Doe also credits Eguae, who he calls a father figure, and Fort Hays State for a big part of his success. He is on track to graduate in December with a degree in organizational leadership.

"I have learned so much at Fort Hays State, mainly to put others first and deal with situations and hang in there no matter what," he said. "Nothing I did this year was because of me. It was because of God, my mother, Coach Ike and my teammates. Had I gone anywhere else, I wouldn't have been the player I am now. I wouldn't have been the person I am now."

Doe hopes for one final Tiger victory on Dec. 3 before pursuing his dream of playing in the NFL. Information about the bowl game, including ticket prices, can be found at www.fhsuathletics.com.

"We all have to do our job," Doe said. "Every single one of us has to go out there and be a Tiger -- and scratch and scratch and scratch."

Cutline: Doe celebrates after a sack and forced fumble vs. Washburn University this season. Photo by Everett Royer.