FHSU shooting team targets success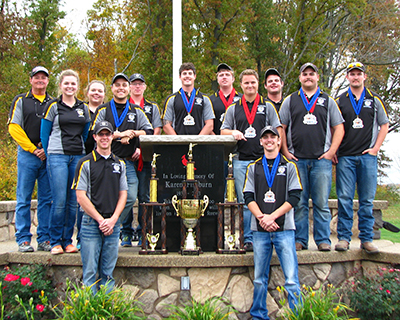 11/30/16
By Randy Gonzales
University Relations and Marketing
HAYS, Kan. -- The Fort Hays State University shooting team targeted another successful showing in a national competition last month, shooting its way to the program's third national title at the Scholastic Clay Target Program national tournament. The Tigers won the SCTP Division 2 national championship after three days of competition in Marengo, Ohio.

It was the program's sixth top two national finish. The SCTP fall competition was in just its second year. The FHSU program also took first place in the spring of 2013 and 2014 at the Collegiate Clay Target Championships at the national competition of the Association of College Unions International (ACUI).

"I was happy for them," said coach Duane Shepherd, associate professor of health and human performance at FHSU, who has coached the team since it was formed in 2005. "My coaching philosophy is I expect you to perform at the highest level.

"It was really apparent during this event that they were all extremely focused and extremely geared toward reaching this achievement," he added. "These kids are a great group of young people. They represent themselves and the university and the shooting team at a very, very high level."

Heather Gordon, a freshman nursing major from Pine Valley, Calif., was a member of last month's title team. The shooting team played an important role in her coming to FHSU.

"That was the biggest reason," Gordon said. "It had a great nursing program. On top of that, I couldn't see myself not doing shooting throughout my college career. It's been such a big part of my life."

Gordon's father got her into competitive shooting when she was 6, using a .22 rifle. She later joined a scholastic trapshooting team. Her grandfather gave Gordon her first 12-gauge shotgun. And now, Gordon's family will travel to San Antonio in the spring to see her compete in the ACUI nationals.

"I'm so excited for that one," Gordon said.

Jerrod Lies, a junior agribusiness and agronomy major from Minneola, was excited to be on the fall title team.

"That was one of the greatest feelings I've ever felt in my entire life," Lies said. "I've been chasing a championship title since high school. Just the feeling that we finally accomplished it -- all the hard work paid off, all the long hours at the range."

Like Gordon, Lies started competitive shooting at a young age. He received a hand-me-down .22 rifle when he was 7, and joined the local 4-H shooting team when he was 10. Lies knew what he was looking for in a college coming out of high school.

"The shooting team was the reason I came to Fort Hays State," Lies said. "When I started looking at colleges, I decided I would like to continue shooting in college. I found Fort Hays State, and that's what brought me here."

Also like Gordon, Lies is eagerly anticipating spring nationals in San Antonio.

"I'm very much looking forward to it," Lies said. "Coming off the (fall) title we proved to ourselves we can do it, we have what it takes. We're all excited to get down there and show everybody we're a team to be reckoned with."

As important as having a shooting team is, Gordon and Lies said it's also nice to have a shooting club, which includes students not on the competitive team.

"I have a lot of friends I hang out with I met through the shooting club," Lies said. "They just started coming out to shoot on club nights and we developed really good friendships."

It's also gratifying to have the support of the local community. Last month, just before the trip to nationals in Ohio, the shooting team received a $1,000 donation from supporters Wilmer and Lorena Kellogg of Hays and a $5,000 donation from the Elizabeth Colt Legacy Foundation.

"The support around here in Hays, that's what really drops my jaw," Gordon said.

Shepherd said the donations were useful in helping pay expenses at the fall nationals in Ohio. He said it's important to represent FHSU well at tournaments.

"We always want to project a very positive image both in shooting sports as well as the university," Shepherd said. "It's not all shooting. It's how you act on the range, how you conduct yourself."

Lies said the students' success wouldn't be possible without Shepherd's dedication.

"We wouldn't be where we're at without our coach, Dr. Shepherd," Lies said. "He's done so much for us, put us in a position to be successful.

"He has sacrificed a lot of his own time and money to see us succeed," he added. "That's something we've always been thankful for."