Instructor, grad student present research at national conference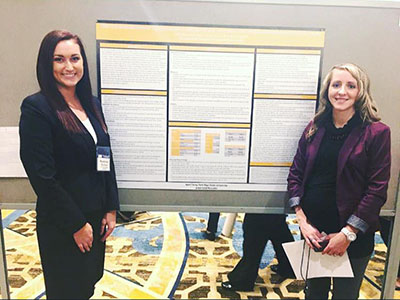 11/28/16 kb
HAYS, Kan. -- April Terry, instructor in Fort Hays State University's Department of Criminal Justice, and Mackenzie Orchard, Andover graduate student, presented their work on students' perception of sexual assault to the American Society of Criminology's recent national conference in New Orleans.

Orchard, who graduated from FHSU in spring 2016 with a bachelor's degree in justice studies, is in the Master of Professional Studies program with a concentration in criminal justice.

Orchard completed her research last year during her undergraduate program under Terry's supervision. Orchard's work focused on students' perceptions of consent and sexual assault. The intent was to assist FHSU in the prevention and education of gender-based violence.
Cutline: Graduate student Mackenzie Orchard and Instructor April Terry in the Department of Criminal present their work on sexual assault at the national conference for The American Society of Criminology.