Members of the Kansas State School for the Blind visit with FHSU students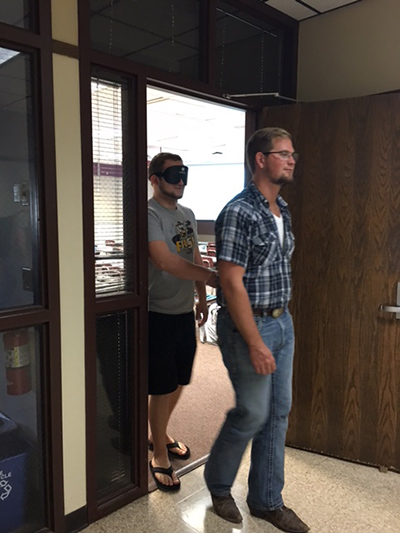 11/09/16 cu
Two Members of the Kansas State School for the Blind recently visited with students, faculty and staff in Fort Hays State University's College of Education.

Aundrayah Shermer, field services director, and Judy Imber, certified orientation and mobility specialist, spoke to undergraduate students in the introductory course "Teaching Children with Exceptionalities." The students participated in blindfold simulation activities, used low-vision simulators, and read and wrote in braille.

"There is a need for trained educators in western Kansas to teach and support students who are blind or visually impaired," said Dr. Robert Bruce Scott, assistant professor of teacher education.

The Kansas State Department of Education and the Kansas State School for the Blind have joined in the Preparation and Mentorship project of two organizations, the Kansas Teachers of Students who are of Blind or Visually Impaired, and Certified Orientation and Mobility Specialist. The project trains professionals, assists them in finding employment and provides ongoing mentoring to newly certified staff.

For more information contact Shermer at 913-305-3016.