Men's soccer team hosting Super Regional; women also advance to round of 16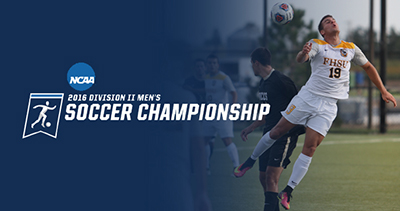 11/14/16
By Diane Gasper-O'Brien
University Relations and Marketing
HAYS, Kan. -- Soccer fans in Hays and the surrounding area will be treated to a championship weekend this weekend, Nov. 18 and 20, at Fort Hays State University.

FHSU's Tiger men's team earned the right to host an NCAA Division II Super Regional Tournament as the No. 1 seed in the Central Region. The four Super Regionals feature the round of 16 teams.

Fort Hays State (13-4-1) will be featured in one of two regional championship matches Friday, and the Super Regional Final is set for 1 p.m. Sunday -- all at the FHSU Soccer Stadium adjacent to Bickle/Schmidt Sports Complex. The winner of Sunday's match will advance to the national semifinals at Swope Soccer Village in Kansas City, Mo., on Dec. 1.

The Tiger women will be competing in a Super Regional for the first time after two exciting victories in first- and second-round action in Minnesota over the weekend. FHSU (15-4-3) will travel to Allendale, Mich., where it will meet the University of Central Missouri for the Central Regional title Friday. The winner of that match will advance to Sunday's Super Regional final, hoping to advance to the women's national semis, also Dec. 1 at Swope Soccer Village.

Fort Hays State's men -- ranked 16th in NCAA-II -- are hosting a Super Regional for the first time in program history, a huge accomplishment for the young program, which started in 2011.

"It's always great to have an opportunity to host an NCAA post-season event," FHSU Athletic Director Curtis Hammeke said. "It's great for our teams, our coaches, the university and the whole community.

"It's an exciting time for the kids," he added. "That's what they're trying to accomplish all season, to get to play post-season in a home environment."

Hammeke thinks Fort Hays State and the Hays community are venues the visiting teams will appreciate.

"The tournament is a great showcase for our university," he said. "And our facilities are some of the best in the country. When people come here to play, they are able to play at a great soccer facility."

The Tigers will play host to Lindenwood (Mo.) University (13-3-2) in the Central Regional championship match at 7 p.m. Friday. That will be preceded by a 4 p.m. match for the Midwest Regional title between Rockhurst University and Drury University, which both advanced out of second-round action this past weekend. The regional winners will then meet Sunday for the right to advance to the national semis.

Gates to the FHSU Stadium will open at 3 p.m. Friday. Tickets are good for both of Friday's games. Admission is $5 for adults and $3 for students kindergarten through college age. However, Fort Hays State students will be admitted free with their Tiger ID card. Gates will open at noon Sunday.

It marks the third time in four years the Fort Hays State athletic program has been able to host a tournament of this caliber. The Tiger softball team was host to the 2013 Central Regional, and the women's basketball team hosted the Central Regional Championships in 2015.

For more information on FHSU teams, go to www.fhsuathletics.com.