Students present service learning projects at Sias University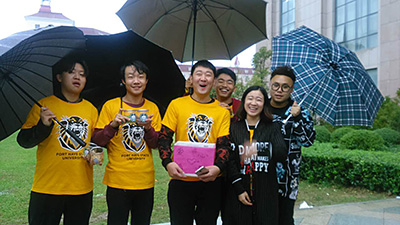 11/11/16 sds
HAYS, Kan. -- More than 100 leadership studies students from Fort Hays State University recently presented in Sias School of International Education's first annual Learn to Serve Fair at Sias International University, Xinzheng, China.

Twenty-five teams, consisting of four to six students each, presented service learning projects focusing on achieving the United Nations Millennium Development Goals, which aim to solve global issues such as extreme poverty, lack of education, HIV/AIDS and gender inequality.

Projects also focus on creating positive change in Xinzheng and other communities in Henan, China.

"It was so wonderful to see all of the students' energy and enthusiasm," said Pandora Rupert, instructor of leadership studies at FHSU.

"Today has been a real win for both our students and the recipients of the service-learning projects," said Jared Nielsen, instructor of leadership studies. "With all the negative issues around the world, today's activities present a great opportunity for students in SIE to discover new ways to serve and contribute to a better world."

For more information about the Learn to Serve Fair, service-learning projects and educational opportunities in the field of leadership, contact the Department of Leadership Studies at
785-628-4303 or fhsu.edu/leadership.