Tiger Round Up 11-10-16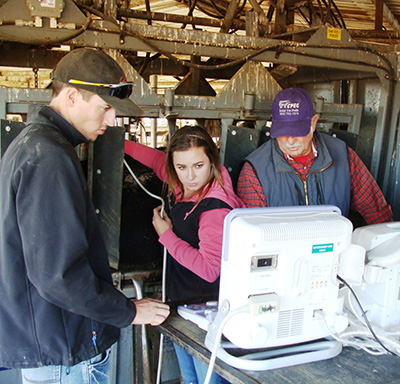 11-10-16
Beef management students perform ultrasound on cattle

Students Thane Barker (left) and Reed Rackley (center) are learning how to ultrasound cattle to determine their composition of fat and muscle. They are pictured with Lynn Allen with the Cattle Performance Enhancement Company.

This lab is part of FHSU's Beef Feedlot Technology and Management course held at the KSU Agricultural Research Center.
Assistant KAMS director presents at national STEM conference

Alexandra Shaw, assistant director of the Kansas Academy of Mathematics and Science, presented "Transitioning Students to the Gifted Environment" at the recent professional conference of the National Consortium of Secondary STEM Schools in Boston.

The consortium was established in 1988 to provide a forum for specialized secondary schools focused on science, technology, engineering and mathematics disciplines.


Teacher education faculty busy with presentations, publications

Dr. Janet Stramel, associate professor of teacher education, presented "Developing Mathematical Practices Through Play" at the Kansas Association of Teachers of Mathematics Conference.

Stramel also was recently published in The Encyclopedia of Middle Grades Education.

"Universal Interventions for Students with ADHD - and All Students," an article by Dr. Valerie Zelenka, assistant professor of teacher education, will be published in the next issue of the Kappa Delta Pi Record.

"Online Mentoring for Inservice Spanish Teachers: Enhancing Proficiency and Practice," an article by Dr. Chris Jochum, chair of the Department of Teacher Education, was recently selected for presentation at the American Educational Research Association annual conference.

Jochum's research was selected from among 13,000 submissions. It will be presented in April in San Antonio, Texas.


Socktober for Tigers in Service collects socks for domestic, sexual violence service center

Tigers in Service collected 318 pairs of socks for the homeless during the month of October. The collection, part a national program called Socktober, which was created to help meet one of the greatest needs of the homeless - socks.

The socks collected by Tigers in Service to go Options, a domestic and sexual violence service center.


Alumnus named a principal of the year in KASSP Area III

David Kirkendall, a 2010 graduate of FHSU's Master of Science in building leadership, was recently named as the Middle Level Principal of the Year for Area III of the Kansas Association of Secondary School Principals.

Kirkendall was nominated and selected by peer principals. He is a principal in Lincoln.