Hard work pays off in a big way for Fort Hays State's Bacon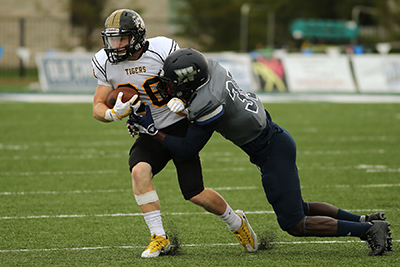 12/02/16
By Diane Gasper-O'Brien
University Relations and Marketing
HAYS, Kan. -- The Fort Hays State University football coaches are making an example out of one of their players. But that's fine with Tyler Bacon, a junior from Quapaw, Okla.

At 5-foot-10, 180 pounds, Bacon is one of the smallest players on the FHSU squad. But game after game after game, he performs in a big way for the Tigers, who left town Thursday on what they hope will be a record-setting weekend.

Fort Hays State (7-4) will take on Eastern New Mexico University (7-4) in the C.H.A.M.P.S. Heart of Texas Bowl on Saturday in Copperas Cove, Texas.

It's the first time in FHSU school history that the football team has advanced to postseason play in back-to-back years. Kickoff for the bowl game, which can be seen on ESPN3, is 6 p.m. And fans will probably see a lot of Bacon.

"Hard work always pays off," said Al McCray, FHSU's assistant head coach in charge of wide receivers. "Tyler Bacon is a great example of that. He is a young man I'm going to use as an example for years to come."

Bacon, Fort Hays State's primary punt returner, has the most catches on the team of any Tiger receiver this season heading into Saturday's game. A Tiger win would give Fort Hays State football its first ever postseason victory in program history.

If FHSU's starting wide receiver/punt returner has anything to say about it, the Tigers will be bringing home the bacon.

"I just want to go win the game and end the season on a winning note," Bacon said. "A win in a bowl game would mean so much for our program, for Coach Brown and all our coaches."

Bacon was referring to Chris Brown, whose teams improved by one win every single season his first five years, all while playing in the MIAA, one of the toughest NCAA Division II conferences in the country.

That he would earn a spot on an MIAA roster, let alone become a starter as a sophomore, didn't seem possible for Bacon, a self-proclaimed "scrawny little dude, maybe 140 pounds soaking wet" when he entered high school.

"I grew a lot since then," he said with a chuckle.

A multi-sport athlete in high school, Bacon actually had dreams of playing a different sport in college.

"I really wanted to play basketball," he said, "but coming from a small school - and I didn't play on any AAU team - I didn't think I had much of a chance to do that."

So Bacon continued to work hard at summer football camps put on by his native Quapaw Tribe in northeastern Oklahoma.

Coincidentally, Justin Iske, an FHSU assistant coach at the time, attended those camps and was impressed with Bacon's work ethic from the time he was a freshman in high school.

"Coach Iske watched me grow and get faster and stronger, and the summer going into my senior year, he started recruiting me," Bacon said.

Bacon knew Division II was a big step coming from a town of about 900. But he welcomed the challenge.

"I'm not the biggest player on the team. I'm not the strongest. I'm not the fastest," Bacon said. "But when you work hard and do what the coaches ask, good things happen."
It turned out to be a good fit for everyone involved.

"When we talk about the game of football, we look at the touchdowns and the big play," McCray said. "But what's really great about football is that it teaches these guys what hard work is all about."

Bacon, who has one more year of football eligibility remaining at FHSU, wants to be a history teacher and coach when he graduates.

McCray has no doubt that goal will become reality.

"He told me he wants to coach, and he'll be a good one," McCray said. "Tyler Bacon is going to be successful in life, period."

Bacon has taken lessons learned on and off the field at Fort Hays State to heart.

"This coaching staff has given me more chances than any other," he added. "They preach hard work will get you results, and they've kept their word."