FHSU offers majors in CNN-rated No. 1 job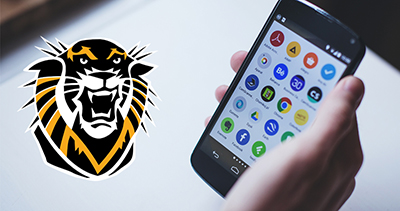 01/26/17
By Randy Gonzales
University Relations and Marketing
HAYS, Kan. -- CNN Money lists mobile app development as the best job in its list of 100 best jobs in America. One need look no further than Fort Hays State University to earn a degree in the field.

FHSU's Department of Informatics is for those students interested in a career in computing and technology. The department offers several undergraduate and graduate concentrations, as well as minors and certificate programs. Among the undergraduate programs offered is Web and mobile application development.

According to CNN, mobile app development has a median pay of $97,100, with top pay at $133,000 and 10-year job growth at 19 percent. In quality-of-life ratings, CNN ranks mobile app developer as an "A" in personal satisfaction, telecommuting and low stress.

Erin McIntyre, a Virtual College student at FHSU, is on track to graduate in May with a Master of Professional Studies degree in Web development. McIntyre, who lives in Montpelier, Vt., received her undergraduate degree in musical theatre performance from a school in New York City.

"It's one of the worst things you can do if you want to make a living," McIntyre said with a laugh. "I have no regrets about it. It was wonderful. I'm glad I did it."

McIntyre was interested in Web development and did a Google search for universities that offered graduate programs online in that area. Fort Hays State was the only one she could find. When she first started taking classes, McIntyre didn't focus on mobile Web development.

"I was looking more general Web development," she said. "Then I had the opportunity to take mobile Web development last semester, and I'm taking mobile development for IOS systems (this semester)."

McIntyre is involved in freelance Web development projects while pursuing her degree.

"I really hope to continue to do that," she said. "There's a lot of opportunity out there to do websites in general, and I'm finding there are opportunities to make money with mobile app development, too."

Melissa Hunsicker Walburn, chair of the Department of Informatics at FHSU, said she was excited when she learned of the CNN ranking. It was an affirmation of what the department is hoping to accomplish.

"With the increasing proliferation of the Internet and being able to do more things through mobile devices, I think we're going to see the demand increase in ways that don't even exist," she said, adding that FHSU's efforts in the field are being recognized.

"Employers seem to very much appreciate the blend that we have with applied computing science and entrepreneurship," she said. "Those are two corner posts of our curriculum. We're less about the theory, and we're more about how do we take the technology that exists and push it to see what we can make it do. Those are skills that continue to be in high demand."

Sierra Powers, a 2015 FHSU graduate in Informatics with a concentration in web development, said the hands-on training she received in classes was beneficial.

"I feel like my education at Fort Hays State really helped me figure out how to solve problems and how to teach myself," she said. "We had a lot of practical learning. My professors really allowed us to focus on our projects in areas that we were most interested in."

Powers is a content specialist with Invista, a Wichita subsidiary of Koch Industries. She works on company websites as well as assisting developers and marketers.

"Fort Hays State gave me a lot of the background information that gave me an introduction to a lot of the technologies I've been working with," she said. "We do have a focus on making sure our websites are responsive, work well on mobile devices."