New scholarship at FHSU to be funded by estate of Dr. Cynthia Krueger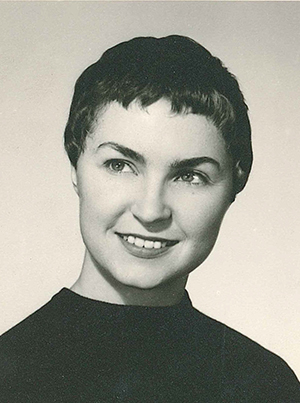 01/12/17
HAYS, Kan. -- A gift valued at more than $1 million was announced today in a news conference at Fort Hays State University.

The majority of the gift, $666,000, will fund scholarships for women in four areas of study at the university. The remainder of the gift is in oil leases.

Dr. Cynthia Krueger, a retired professor of sociology, attended Fort Hays State early in her career in education, and her gift is an expression of her desire to lessen the financial burden on students. Financial need, based on an applicant's Free Application for Federal Student Aid, is one of the criteria for receiving aid.

"If there is ever an example of somebody paying it forward, scholarship gifts are it," said Dr. Andy Tompkins, interim president of Fort Hays State, "and this is one of those great gifts that help us help students for years and years to come."

He continued, "I think it is a wonderful thing, not only a tribute to our students now and in the future, but also to Dr. Krueger for wanting to make sure she made a difference for our students for years to come."

Jason Williby, president and CEO of the FHSU Foundation, explained that the gift will provide a minimum of $24,000 a year for scholarships, which will be divided into thirds: one for the Department of Allied Health, one for the Department of Music and Theatre, and another third to be divided between the departments of Sociology and Social Work.

Krueger, who died in 2014, grew up near Natoma. She received her doctorate in sociology from Washington University, St. Louis, and went on to become a professor at Brooklyn College in New York and San Fernando Valley State College in California before returning home to Kansas, where she retired from Washburn University.

"She brought her expertise into the study of areas as varied as radical politics on the one hand and nursing education on the other," said Dr. Paul Faber, dean of the College of Arts, Humanities and Social Sciences at FHSU.

"Her life can serve as a guide for us and our students - her preparation through education, her use of her talents to serve others wherever that opportunity arose, her generosity," said Faber.

Krueger's gift will support young women in financial need who have declared a major in either sociology, social work, music and theatre, or allied health. The Dr. Cynthia S. Krueger Scholarship gives first preference to women graduating from high schools in Osborne, Russell, Rooks and Ellsworth counties as well as Highland Park High School in Topeka.

The scholarship is renewable for up to seven additional semesters as long as the requirements are met, which include maintaining at least a 2.5 GPA.

"It is only through the support of our generous alumni and friends that our students are able to pursue their academic goals and our programs are able to stay abreast of the latest advances in our disciplines," said Dr. Jeff Briggs, dean of the College of Health and Behavioral Sciences.

"These scholarships will make it possible for deserving students to realize their potential and pursue the career of their dreams," he said. "These scholarships enhance access to education for Kansans and provide a wonderful opportunity to improve the educational experience of Fort Hays State University students and to enhance the quality of life profile of Kansas communities."

In addition to the requirement for financial need and others, the Krueger Scholarship has an additional requirement that represents a specialty of Dr. Krueger's academic career. Within two semesters of receiving the scholarship, a recipient must take the Introduction to Addiction class, or an approved equivalent. Her aim was that young women learn to recognize the symptoms of addiction and be aware of the dangers.

Dr. Tompkins also pointed out the benefit of estate gifts such at Dr. Krueger's. "By using her estate plan, Dr. Krueger was able to choose who, what, when and how her money was going to be used after her death," he said. "I hope this occasion will help others see the benefit of estate planning and consider including Fort Hays State University in their estate plans."

Williby said that Dr. Krueger's gift is a great example of how someone can support the university's Journey Campaign, which encourages donors to support the areas and activities of Fort Hays State that mean the most to them. Journey kicked off in the fall of 2016 with the goal of reaching $100 million over the next several years.

Gifts come in many forms, from cash and stock to real estate and collections. Dr. Krueger chose to give the university her oil interest, which will provide scholarships for students in perpetuity.

To learn more about the FHSU Foundation, call 785-628-5620, email the office at foundation@fhsu.edu or visit http://foundation.fhsu.edu.