FHSU alum gives back with major donations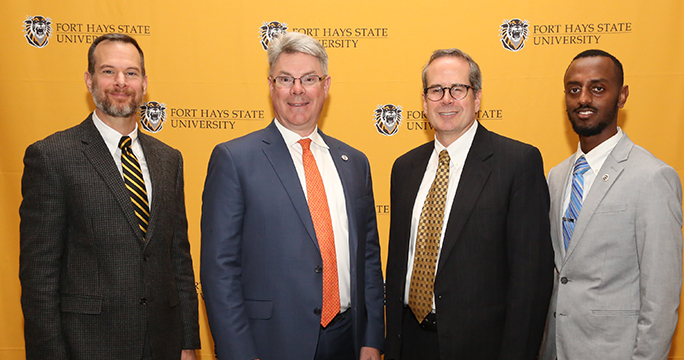 02/09/17
By Randy Gonzales
University Relations and Marketing
HAYS, Kan. -- Kevin Faulkner, a 1983 graduate of Fort Hays State University who received financial assistance while in school, wanted to give back to his alma mater.

In a news conference Thursday morning in FHSU's Memorial Union Sunset Atrium, FHSU Foundation President Jason Williby announced two major gifts from Faulkner and his wife, Joanne: a $100,000 deferred gift upon his death to FHSU through the Wooster Society -- a group of individuals who have arranged gifts to the FHSU Foundation through planned giving -- and a $100,000 cash gift to the entrepreneurship program at the university.

"Both of these gifts are going to transform students' lives, transform our programs. They're going to make Fort Hays State exceptional," Williby said. "Just like Kevin Faulkner designated funds to entrepreneurship, which is the academic discipline that he's interested in, the university's current Journey campaign encourages donors to give to the area of Fort Hays State that means most to them."

Faulkner, who was born in Haysville, moved to Hays with his family at age 3. His father, Keith, was in charge of data processing at Fort Hays State and had his office in Sheridan Coliseum, which at that time was where the Tiger basketball team practiced and played its home games. Faulkner still remembers watching the Tigers as a youngster and playing pickup games on the court. He looked forward to watching the Tigers play in Gross Memorial Coliseum Thursday night before returning home to Saratoga, Calif.

"I remember chasing the TKE fire truck to the (homecoming) bonfires back in the '60s, watching the Tiger basketball team practice in the old Sheridan Coliseum," Faulkner said. "Fort Hays State has been in my blood for a long time."

As a student, Faulkner received a Dane G. Hansen Foundation scholarship. Faulkner went on to study law at the University of Virginia, then launched his career in law and investor relations in California. He has lived and worked in the Silicon Valley area since 1988.

"I view myself as a small contributor to a much larger part of what it took to build a program," Faulkner said. "We have very high hopes of what the entrepreneurship program can mean.

"I've seen the power an entrepreneur's idea can have -- to generate a business, create value, employ people with a variety of skills," he added. "Our hope is that this program can do that for Hays and for Fort Hays State students and faculty."

Henry Schwaller IV, director of the Center for Entrepreneurship at FHSU and instructor of management and entrepreneurship, said Faulkner has been instrumental in shaping and building the entrepreneurship program. Schwaller noted that when the program started in 2013, there was one class on campus, with 11 students. In spring 2017 there are four classes being taught, with more than 180 students, both on campus and online. The first entrepreneurial competition in fall 2013 included 32 participants. Last fall's Startup Weekend involved 87 participants.

"This program is growing and has momentum behind it," Schwaller said, adding that Faulkner wanted to be part of the entrepreneurial challenge.

The FHSU Faulkner Entrepreneurship Challenge is a venture idea competition open to all FHSU students. The spring competition started Wednesday night with a kickoff event. The competition consists of four weeks in which students are assisted in a series of workshops, which provide key tools for the development of their startups.

The fund established through the FHSU Foundation allows for experiential learning opportunities by sending students to visit entrepreneurs and startup villages and bringing entrepreneurs and experts in various fields to the FHSU campus.

"Kevin has been a mentor to many of these students participating," Schwaller said.

Interim FHSU President Dr. Andy Tompkins was appreciative of Faulkner's donation.

"Kevin's gift truly enhances the entrepreneurial program here at Fort Hays State, giving our students an opportunity to expand their experience and give them that extra edge for their career," he said. "What an incredible impact this gift has on our university."

For more information on the FHSU Foundation, visit http://foundation.fhsu.edu or call 785-628-5620 or email at foundation@fhsu.edu.