FHSU student, historical society work together on Stroup exhibit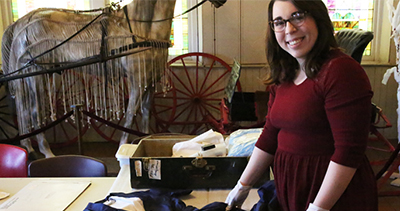 02/03/17
By Randy Gonzales
University Relations and Marketing
HAYS, Kan. -- Working together, history can come alive.

Fort Hays State University and the Ellis County Historical Society collaborated on an exhibit about Leora B. Stroup at the historical society's museum. Stroup, who arrived at FHSU in 1952 to start a nursing program at the university, was the director and only faculty member that first year with 16 students.

Ellen Boeding, a senior history major from Topeka, chose Stroup as the figure she wanted for an exhibit as part of an apprenticeship. Boeding and museum staff started work on the exhibit over the summer, and it opened at the museum's winter holiday open house on Dec. 2.

"You want to talk about glass ceiling -- glass ceiling for this woman didn't exist," Boeding said. "Her legacy is living on through her commitment to push the need for nursing."

In addition to founding the nursing program at Fort Hays State, Stroup served as a pioneering military nurse in the Army while receiving her pilot's license. As a flight nurse, she was part of a fledgling program in World War II to evacuate wounded soldiers by air transport.

Boeding admitted she was nervous the night the exhibit opened.

"I didn't know if I would get it done in time," she said. "I didn't know if people were going to like it. I calmed down once my friends and family showed up."

Boeding, who already has an undergraduate degree in geology at FHSU, wants to obtain a master's degree in history. She also plans to earn a doctorate degree. Boeding -- who also has a love of dinosaurs -- said her dream job would be working at the Smithsonian Institution in Washington, D.C.

"I always wanted to go into museum work," she said. "Not just history, but paleontology as well."

Jessica Hayes, who graduated from FHSU in December, is the new curatorial assistant at the historical society's museum. Hayes earned a Bachelor of Fine Arts in studio art, with a concentration in ceramics. She plans to get her master's and Ph.D. with a career goal to become a director of an art museum. Working at the ECHS museum will help further her career, Hayes said.

"You learn so much in a small museum," Hayes said. "You get hands-on experience, juggle different tasks.

"For now, I am learning everything I need to know about curating at this museum," she added. "I can transfer those skills on to my future career."

Lee Dobratz, director of the Ellis County Historical Society since March 2016, sees positives out of ECHS working with FHSU. The Stroup exhibit is an example.

"It was great to work with the history department," Dobratz said. "I think this can be a really great training opportunity. I love teaching. It was good to be able to share some knowledge. This was a great topic to work on because we were all very excited to learn more about (Stroup's) history because she was a fascinating woman.

"I look forward to working with an intern in the future," she added. "Working with Ellen from the history department was an amazing educational experience."

Dobratz said Hayes was a good fit for the curatorial assistant position.

"I was looking for someone with fresh ideas, a diverse background, a passion about our mission and a real eagerness to learn," she said.

Boeding said her internship was a great opportunity.

"Fort Hays State is giving you hands-on work as well as an experience you can't get anywhere else," she said. "I think anybody in the history department should take that opportunity."

Boeding also said people should take the opportunity to see the Stroup exhibit, on display at the museum at 100 W. Seventh into June.

"They should go look at the exhibit because I think it will inspire them to reach their dreams," Boeding said. "There's a quote by Leora Stroup on the wall above the exhibit: 'Never say you're too old to do anything you really want to do.' "