Hays Symphony plans Valentine celebration with Tchaikovsky, Romeo & Juliet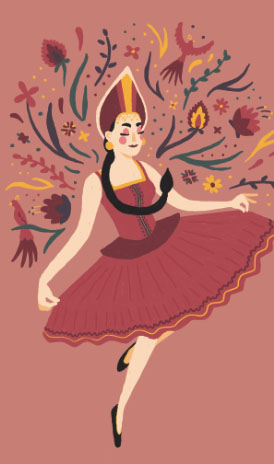 02/06/17
By Ruth Firestone
Hays music supporter
Put a heart around Feb. 11 on your calendar, write in 7 or 7:30 p.m. and head over to FHSU's Beach-Schmidt Performing Arts Center for a free Valentine's concert and post-concert reception. Conductor Shah Sadikov will launch the festivities at 7 with a brief introduction to the music.

Tchaikovsky's "Romeo and Juliet Fantasy-Overture," begun in 1869, did not reach its final form until 1880. His mentor had suggested that he write a piece based on Shakespeare's tragedy. Its themes may indirectly reflect the characters and events of "Romeo and Juliet," but it stands on its own as a passionate statement of love intertwined with doom, borne of Tchaikovsky's grief and frustration at a love that could never be fulfilled.

The love theme, an icon of Western music, is used frequently to prefigure scenes of love about to be consummated or maybe not.

A complete change of pace will follow or, one might say, human love yields to divine love. Cellist Benjamin Cline will collaborate with the orchestra in "Kol Nidrei," published in 1881 by the German composer Max Bruch. The work is based on two Hebrew melodies, the "Kol Nidrei" of the title and Isaac Nathan's arrangement of "Birkat Kohanim" (Nathan, from England, eventually became the father of Australian music).

"Kol Nidrei," "all vows," are the first two words of a prayer chanted at the beginning of the Jewish Day of Atonement (Yom Kippur) at sunset on the day before the holy day. "Birkat Kohanim," "lifting of the hands," is the title of a priestly blessing given with hands raised. Bruch was not Jewish, but, according to Wikipedia, "only wished to incorporate Jewish inspirations into his own compositions."

The concert will end with music that everybody loves, Alexander Borodin's "Polovtsian Dances" from the unfinished opera "Prince Igor." (The Russians called the Cumans, a group of Turkic nomads, Polovtsky.) As described by the critic Jessica Schilling, "Borodin's bright tone colors, graceful melodic lines, and energetic rhythms create a general feeling of celebration and enthusiasm."

The Polovtsian dances are so effective in conjuring not only feelings but visions of people enjoying themselves boisterously in exotic surroundings, that they, like Tchaikovsky's fantasy, recur time after time in popular tradition. "Kismet," the hit Broadway show, later movie, is just one example.

I predict all who attend the concert will dance out into the lobby of Beach-Schmidt filled to the brim with love and high spirits and in the mood for refreshments at the post-concert reception, sponsored by Insurance Planning.
Tickets may be picked up at the door, or in advance by contacting hayssymphony@fhsu.edu.