Sigma Phi Epsilon Fraternity honors FHSU alumni for outstanding mentorship and service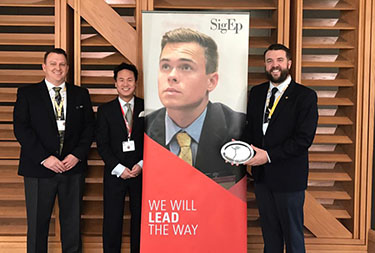 02/21/17
HAYS, Kan. -- The Kansas Zeta chapter of Sigma Phi Epsilon fraternity at Fort Hays State University was recently recognized with three awards for excellent alumni engagement and undergraduate student mentorship. The awards were given at the fraternity's Carlson Leadership Academy, held from Feb. 17 to Feb. 20 in Oklahoma City.

Taylor Wade, a 2015 FHSU graduate, was presented with the Outstanding New Volunteer Award for his efforts on the chapter's alumni volunteer corporation, where he currently serves in the secretary role.

This award is presented annually to a new volunteer in each region of the fraternity who has had a significant impact on the chapter with which they volunteer and who has been involved as an alumnus for less than three years. In addition to serving as secretary, Wade regularly mentors several undergraduates in his field of study.

Kevin Krebaum, class of 1996, was recognized with the Volunteer of the Year Award for his contribution as the alumni volunteer corporate treasurer. This award is given to one volunteer who has had a significant impact on the undergraduate and alumni chapter. Krebaum has mentored several students with an interest in finance and continues to help find scholarship opportunities for members of the fraternity who encounter financial difficulties.

The local Sigma Phi Epsilon alumni corporation was also presented with the Alumni and Volunteer Corporation Operational Excellence Award. This was presented in recognition of alumni mentorship of undergraduate students and the strong relationship between the organization and FHSU.

"These awards recognize the outstanding ways in which Sigma Phi Epsilon alumni from FHSU are successfully mentoring undergraduate students," said Vincent Bowhay, Alumni Volunteer Corporation president. "I could not be more proud of the work these individuals perform on behalf of our university and fraternity."

Bowhay, former assistant director of the Memorial Union at Fort Hays State, is now director for campus success at Campus Labs, Buffalo, N.Y.

Sigma Phi Epsilon was founded Nov. 1, 1901, at the University of Richmond in Virginia. Sigma Phi Epsilon currently has initiated more than 325,000 men since its founding. The Kansas Zeta chapter at Fort Hays State University was first established in 1958 and then reestablished in 2012. The fraternity will move into a new on-campus housing facility at the beginning of the fall 2017 semester.

For more information, contact Bowhay at vince.bowhay@gmail.com.

Cutline: Sigma Phi Epsilon alumni volunteer corporation members Jason Williby, president and CEO of the FHSU Foundation, Matt Means, director of the FHSU Honors College, and Vincent Bowhay, pictured with the Alumni and Volunteer Corporation Operational Excellence Award.