A special start to spring break for FHSU students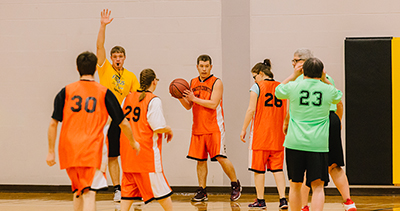 03/17/17
By Diane Gasper-O'Brien
University Relations and Marketing.
HAYS, Kan. -- Two Fort Hays State University students began their spring break early this year.

Matty Perkins and Jason Borthwick were up bright and early Friday morning to begin work at the Special Olympics Kansas State Basketball and Cheerleading Tournament, held annually in Hays.

The tournament's cheerleading competition on Thursday was followed by scheduled basketball games among 30-some teams all throughout the day Friday and into Saturday morning.

Perkins and Borthwick met at FHSU this year and regularly work together refereeing youth sports and junior varsity high school games through FHSU's Community Officiating Services.

They decided to give Special Olympics a whirl for the first time and showed up with whistles around their neck, ready to referee games in FHSU's Cunningham Hall Friday morning.

Perkins and Borthwick both played basketball in high school, and they thought that Special Olympics would be a different refereeing experience.

Perkins, the older of the two students, continued to guide Borthwick, just as he does during regular competition.

"You have to have a little more patience here," Perkins said. "It's a fine line to keep the flow of the game going but have them enjoy it, too."

The compensation for this gig would be different than their normal paycheck for refereeing. The students received a T-shirt for their volunteer stint.

But Perkins and Borthwick said they will walk away from the tournament with so much more.

Borthwick, a freshman pre-physical therapy major from Ulysses, has special needs family members and said "I thought volunteering would be pretty cool. I like helping out. This is great way of giving back, too."

Perkins, a senior sports management major from Wichita, said "it warms my heart to see how it helps people and see how these players are enjoying themselves so much."

The two planned to work only on Friday of the tournament because Perkins had a work commitment in Wichita Saturday.

But following his first session Friday morning, Borthwick changed his mind.

"After being here today, it's been a really good experience," Borthwick said, "so I'm thinking about sticking around and seeing if they need any help Saturday."