FHSU receives Voter-Friendly Campus designation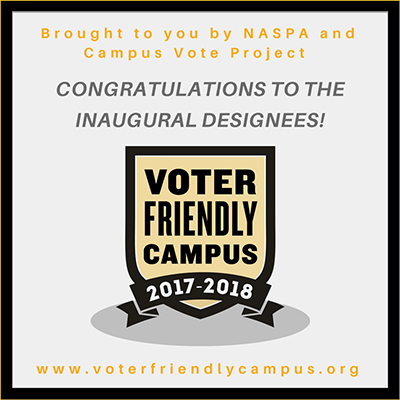 03/21/17
HAYS, Kan. -- Fort Hays State University has been designated as a nationally recognized Voter-Friendly Campus by the Campus Vote Project and National Association of Student Personnel Administrators: Student Affairs Administrators in Higher Education.

The campus designation was a 12-month process coordinated by Brett Bruner, director of transition and student conduct, and Whitney Swender, a graduate student majoring in higher education. The plan emphasized the institution's approach to engaging students in voter registration, voter education, ballot access and voter turnout.

Last year, the Campus Vote Project teamed up with NASPA: Student Affairs Administrators in Higher Education to develop the Voter Friendly Campus Designation program to recognize campuses doing excellent work to empower their students to get involved with democracy.

In order to be recognized, schools needed a campus plan and months of registering and educating students.

The campuses selected registered, educated, and turned out their students in the 2016 election.

More information can be found at www.voterfriendlycampus.org/.