Gene Klein, Holocaust survivor, to bring his story, message of compassion, to FHSU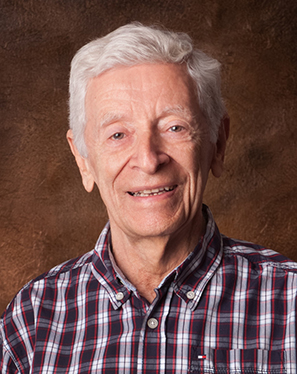 03/30/17
HAYS, Kan. - In the spring of 1944, a teenaged Gene Klein and his family were taken from their village in Hungary and thrown into the infamous Nazi extermination camp known as Auschwitz.

He will bring his story to Fort Hays State University's Beach/Schmidt Performing Arts Center at 7 p.m. Thursday, April 13. The public is invited. Admission is free.

His father was taken straight to the gas chamber. Klein was forced into slave labor until liberated in the spring of 1945, and he spent two years as a refugee before his and other family members were allowed to immigrate to the United States.

Now 89 and living in The Villages, Fla., Klein has been speaking out about the Holocaust for more three decades. Writing for The World Post in July 2016 as a memorial to Elie Wiesel, Klein noted that he, unlike Wiesel, was silent for decades about the Holocaust.

"Eventually, I decided that, like Wiesel, I needed to be public about being a survivor and that, in my own small way, I should contribute to the mission of educating the world about the Holocaust," he wrote.

"I will tell our story," he continued, "and I will speak -- especially in these times -- about the tolerance and compassion necessary to prevent what happened to us from happening to others."

"He has traveled all over the world for decades sharing his Holocaust experiences, but has not yet visited Kansas," said Hollie Marquess, instructor of history at Fort Hays State University. "Gene is excited to see Kansas for the first time and is happy to share his experiences with students and our community."

His visit to Hays is an outgrowth of a world civilization class Marquess was teaching in the fall 2016 semester. They were reading "We Got the Water: Tracing My Family's Path Through Auschwitz," a book by Klein's daughter, Jill Gabrielle Klein.

This coincided with a proposal for a trip to the National Campus Leaders Summit in January as part of the Embrace Difference campaign of the university's Center for Civic Leadership. The summit was scheduled the U.S. Holocaust Memorial Museum in Washington, D.C., and one requirement for attendance was a proposal to the museum for a project in keeping with the museum's mission and purpose.

Marquess's students were "expressing an amazing response" to Klein's book, she said, so "I located Gene Klein's email and proposed that he visit our campus as a part of this project, and he accepted."

She and Dr. Paul Niencamp, assistant professor of history, led five students on the trip to Washington in late January. The students represented the disciplines of history, political science and leadership studies.

"The Holocaust Memorial Museum has been supportive of this project since our proposal," said Marquess. "It is an incredible opportunity for my students who have read this book to then get to meet him and visit with him, and it is also a wonderful opportunity for the community to hear his story and his message."

Klein has inspired audiences around the world with his powerful and touching presentation on the continuing relevance of the Holocaust and the necessity of fostering the capacity for empathy, instead of allowing hate to flourish.

He is a frequent contributor to national and international media outlets, including CNN, The Guardian, and HuffPost Live.