Journey Campaign at FHSU passes halfway mark, passing $52 million on way to $100 million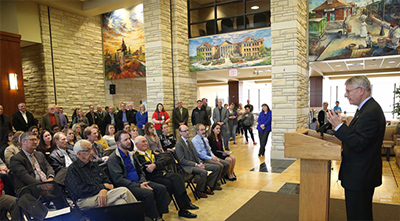 03/08/17
HAYS, Kan. -- In a news conference based on the theme of "every gift matters," the Fort Hays State University Foundation announced today that gifts to the university have passed $52 million so far in the $100 million Journey Campaign, the largest ever in the university's history.

Steve Shields, co-chair of the campaign, made the announcement. He built on the themes introduced by a 90-second video and by Jason Williby, president and CEO of the FHSU Foundation. Those themes were of community and giving, and the importance of small gifts as well as large.

Fort Hays State, said Shields, has a rich history of "not only educating but forming character and instilling in people a sense of purpose."

"Campaigns like this are what we are made of," he said. "They are what separate us, they are what lift us up to continue making a deeper, richer world."

Williby, in his introduction, said he wanted to emphasize two numbers before Shields announced the dollar total. Those numbers are 17,000 donors and 50,000 individual gifts that make up the total so far. Only a few of those are the million-dollar gifts that gain the most attention.

Shields made the point that "you don't have to have a lot of money to be able to help build," and that much of the total so far comes from $100 gifts. The small gifts are also important, he said, in teaching people to give, both as students and as young people just starting out in their careers.

"So together," he concluded, "we are all one body of philanthropy, and I am so excited and pleased and proud to announce that we have now officially passed the halfway mark, and in this $100 million campaign as of this morning we are at $52 million."

He finished with thanks to the audience of about 70 people on behalf of the Foundation and the university for the $52 million given so far, ending, "and we've got 48 more to go."

The next speaker was an example of young professionals giving back. Dr. Cole Engel, an assistant professor of economics, finance and accounting at FHSU, graduated from Fort Hays State in 2007 with two undergraduate degrees and again in 2009 with a graduate degree.

"During my seven years as a student here," said Engel, "I benefited greatly from the time, the talent and the treasure that was invested in me by the faculty, the staff, the alumni and the friends of our university. So in December of 2014, near the conclusion of FHSU's Power of One Scholarship campaign, I decided it was time to say thank you, by paying it forward."

That was when he created the first of his two $1,000 annual accounting scholarships. Later, after earning his doctorate, and to recognize and honor all the help he received in that "journey," he said it was time to "pay it forward one more time" and he created the second scholarship.

Melanie Arellano-Luna, a Kansas City junior majoring in social work, gave her thanks for the support she has received in her three years at Fort Hays State. Coming to live in Hays, four hours away from home, was difficult, she said, but "Fort Hays State made sure to welcome me with open arms."

Scholarships allow her to concentrate on her education and on the professional and service activities that are preparing her for her career. "With the scholarship support I have received from Fort Hays State University, I don't have to worry about working more and more hours every week."

Dr. Andy Tompkins, interim president at FHSU, reiterated the morning's theme.

"Obviously the message today is, 'Every gift matters,' and you've heard that several times," he said, "and I think that's a wonderful message when you're in a campaign like this."

In the three months he has been at FHSU, said President Tompkins, he has learned that this university "is a special place."

"It's one that values students and their success. It's one where the skill and expertise of the faculty and staff is greatly admired and lifted up. It's a place that feels a special bond with its community and region, and it's a place where great alumni and friends want to see their university thrive."

He could not be in a better place, he said.

"So," he concluded, "my thanks to each one of you, to those today who have given us a nice message about the importance of this campaign and for your continued support for the university. Thank you very much."

For more information on the FHSU Foundation and how to support the Journey Campaign, please contact the FHSU Foundation by phone at 785-628-5620 or by email to foundation@fhsu.edu. For more information on the FHSU Foundation, visit http://foundation.fhsu.edu.