Student Government's Big Event to promote service, involvement in Hays community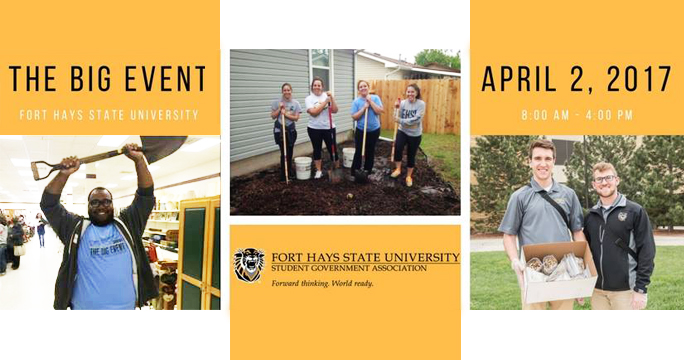 03/16/17
HAYS, Kan. -- Fort Hays State University's Student Government Association will host its annual Big Event from 8 a.m. to 4 p.m. Sunday, April 2.

Participants will volunteer at service projects across the Hays community, including painting, gardening, community clean up and sorting clothing. Last year, the event attracted nearly 200 volunteers who completed 26 different projects.

"This is a way for our students to say 'Thank you' for all the support the community gives to our education," said Ashley Templeton, SGA community relations director. "This year, we hope to reach more people and increase the number of projects."

"We love having the community involved because it gives Hays residents a chance to work with and be a part of the FHSU family," said Templeton.

Participation in the Big Event is open to FHSU students and Hays community members. To register a project online, visit www.fhsustudents.org/the-big-event-volunteer-form-2/. Registration, to list a project or to volunteer, can also be completed by calling 785-628-5311 or emailing amtempleton.se@fhsu.edu.