FHSU students show gratitude for donor support at FHSU Foundation Awareness Day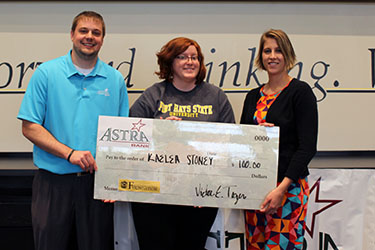 04/18/17
HAYS, Kan. -- "I can only hope that one day I will be able to help students achieve their goals just as others have helped me."

"Scholarships mean more than our donors will ever know. A huge thank you to them for believing in our future!"

Students at Fort Hays State University are aware, and grateful, for the support that they receive from alumni and friends of the university.

FHSU's fifth annual Student Awareness Day was held recently at FHSU's Robbins Center -- home of the FHSU Foundation, which serves as the fundraising arm of the university.

Approximately 375 current Fort Hays State students stopped by to receive a free lunch and for the opportunity to win a scholarship for the fall 2017 semester. Representatives from Astra Bank, event sponsor, drew names for some of the lucky scholarship winners.

Awareness Day was created to help educate current Tigers about the importance of private support.

"Following graduation, these students will be asked to give back to FHSU, and hopefully after learning of how crucial private support is to the university and our students, they will be more inclined to do so," said Schuyler Coates, director of annual giving for the FHSU Foundation.

"Our generous donors help students further their education and pursue their dreams," she said. "We hope that our students are truly aware and thankful of the support that they've received, and that they pay that kindness forward down the road."

To help spread awareness, the Foundation staked lawn signs throughout campus for a week. "These signs remind students that FHSU donors and their gifts keep our great university running full-speed, and that we wouldn't be such a strong institution today without this generosity," said Coates.

"Ensuring that students know how FHSU is funded is an important lesson," she said. "Fort Hays State University continues to offer the second lowest in-state tuition in the United States. The low tuition is only possible due to the number of generous alumni and friends, who understand how important it is to give the gift of education."

"A big thank you to Astra Bank, our generous sponsor, for providing $2,000 in scholarships for us to give away throughout the Awareness Day event," said Coates. "Also, thank you to the almost 375 students who stopped by, and congratulations to the lucky winners!"

Scholarship winners:
$1,000 Scholarship -- Carson Lopez, Andover sophomore majoring in psychology.

$500 Scholarship -- Evynn McGinn, Sedgwick junior majoring in communication sciences and disorders.

$100 Scholarship -- Feysel Rahmeto, Omaha, Neb., senior majoring in business education.

$100 Scholarship -- Kaelea Stoney, Herndon graduate student majoring in speech-language pathology.

$100 Scholarship -- Levi Wolters, Ludell senior majoring in management.

$100 Scholarship -- Ricardo Mendoza, Kismet junior majoring in accounting.

$100 Scholarship -- Lily Sale, Arvada, Colo., freshman majoring in psychology.

To learn more about the FHSU Foundation, visit http://foundation.fhsu.edu, call 785-628-5620 or email foundation@fhsu.edu.