Fort Hays State rodeo a family event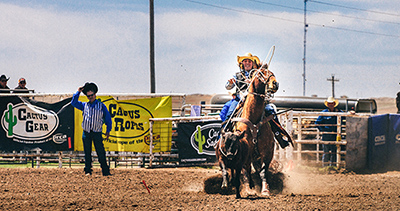 04/24/17
By Diane Gasper-O'Brien
University Relations and Marketing
HAYS, Kan. -- Those involved with the rodeo club at Fort Hays State University often refer to their teammates as family.

It was a memorable family weekend for MariKate Crouch at the 2017 Fort Hays State University Rodeo, with something exciting happening each day of the three-day event for the Scott City junior.

Surrounded by her college rodeo family as well as her immediate family, Crouch made the short-go in Friday's competition in breakaway roping, qualifying her for Sunday's finals in that event for the first time this season.

During Saturday night's performance, with her younger sister KelsiJo looking on, it was announced that MariKate Crouch was the recipient of the Doc Brower Scholarship, awarded in honor of FHSU's longtime rodeo coach, Dr. Garry "Doc" Brower, who died in 2012. Crouch also was the recipient of next year's Floyd Rumford Scholarship, given in honor of the father of current rodeo coach Bronc Rumford.

Then in Sunday's finals, Crouch appeared to make her goal of finishing in the top three when she roped her calf in a respectable time of 3.4 seconds. However, Crouch was whistled for leaving the barrier a fraction of a second early. The 10-point penalty dropped her into a tie for fifth in the average.

Nonetheless, Crouch was upbeat afterward.

"My horse worked really well," she said. "I can't complain."

Learning how to cope with the ups and downs in rodeo has become a way of life for Crouch, who has been participating in rodeo since she was 14 years old.

"Rodeo is a very humbling sport; I will tell you that. It keeps you really grounded," Crouch said. "You can be winning and be on top of your game one day, and the next day, you're not. You have to take it one day at a time."

Crouch's performances weren't the only excitement FHSU club members experienced at their own rodeo.

Five other Fort Hays State students participated in Sunday's finals: two team roping duos of Tyrell Moffitt and Wyatt Livingston and Matt Rezac and Zeke Hall, as well as bull rider Coleman Kirby.

And for the first time in several years, FHSU Rodeo now has its own queen.

Following numerous competitions throughout the day Thursday, Palco junior Monica Towns was crowned the 2017 rodeo queen Friday night.

Towns, an animal science major, will spend the year promoting rodeo in the Hays community and the surrounding area.

"This is a real honor," Towns said. "Rodeo queens aren't just pretty girls on horseback, which is what some people think. It's about being out in the public, educating people about rodeo. I'll make a schedule and attend some summer rodeos and go into the schools. I'm really excited about it."

It's been a while since the FHSU Rodeo crowned a queen, and Rumford said the FHSU Rodeo Club decided to bring back that competition because "we want someone who will represent rodeo and represent Fort Hays State."

This is the third rodeo contestant title for Towns, who was crowned Junior Miss Rodeo Plainville in 2012 and Triangle Rodeo Queen in Greensburg in 2015.

She said she wanted to concentrate on the queen competitions rather than participate in rodeo events because "I think it's important to promote rodeo."

Towns doesn't have to convince those closest to her that rodeo is an important part of her life.

"Rodeo is a big family thing for us," said Towns, one of nine siblings who all participate in rodeo in some form.

Even with all the excitement of the weekend fresh on her mind Sunday night, Crouch was looking forward to the season finale with her teammates. FHSU will travel to Oklahoma this weekend for the Panhandle State University Rodeo, the final event of the spring on the Central Plains Region circuit.

Crouch knows her season point total won't be enough to place her in the top three in the region in either of her events -- she also competes in team roping -- and qualify for this summer's College National Finals Rodeo in National Intercollegiate Rodeo in Casper, Wyo.

But she is well aware that participating in college rodeo is not so much about the end result, but the journey. She says she wouldn't trade the experience for anything.

"Rodeo is like a big family," Crouch said. "Once you get to know somebody you get close and you can ask them for anything. With rodeo, you meet someone, and you're going to know them forever. I'm so lucky to be able to experience all these opportunities."

In addition to her rodeo family, Crouch also enjoyed being surrounded by her parents and sister this weekend.

KelsiJo, who has decided to follow her older sister to Fort Hays State, enrolled for the 2017-18 school year Saturday on campus. Her mom, Carol Crouch -- an FHSU graduate who coincidentally was the 1991 Fort Hays State rodeo queen -- was present to watch her oldest daughter compete. So, too, was MariKate's dad, Lance, who participated in college rodeo at Pratt Community College.

"It's always nice when they can come watch," said Crouch, who added that she has learned a lot from being involved in rodeo at the college level.

"Being in rodeo teaches you to be responsible," MariKate Crouch said. "You have to manage your time fairly well, going to class, going to work, going to practice. Then with being gone nearly every weekend. You have to get your classwork done before you go."

Rumford agreed that there are a lot of life lessons learned while participating on the rodeo team.

"Part of it is being responsible for taking care of an animal every day, in addition to going to class, and getting all that work done," he said. "Another area is how to get along with lots of different kind of people, learning how to travel together and deal with problems that can crop up along the way. It's a great experience for them."