Hays Symphony, FHSU choirs join for free concert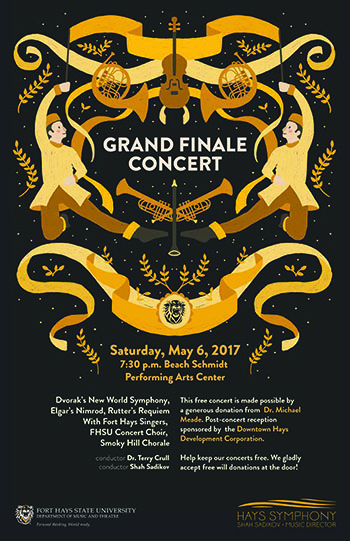 04/17/17
By Ruth Firestone
Hays music supporter
HAYS, Kan. -- One of the most looked-forward-to concerts of the year, the Hays Symphony Orchestra and FHSU choirs joint concert, is scheduled for 7:30 p.m. Saturday, May 6, in the Beach/Schmidt Performing Arts Center.

And, as with all this season's concerts, it is free and open to the public, thanks in part to a generous donation from Dr. Michael Meade.

The orchestra will begin with the Ninth "New World" Symphony of Antonin Dvorak, composed in 1893 when he was living in New York and vacationing in the Czech-speaking community of Spillville, Iowa. Like many composers of his era, Dvorak was deeply interested in folk music and thought that spirituals would provide the basis for a truly American school (He was partly right and partly wrong because he didn't go to New Orleans and discover jazz).

At any rate, perhaps as homage to America, he began the second (largo) movement with a melody that sounds like a spiritual but was actually composed by William Arms Fisher, one of his students. We know it as "Goin' Home."

"Nimrod," one of Edward Elgar's 14 "Variations on an Original Theme," or "Enigma Variations," will follow. The "Variations," composed in 1899, established Elgar as a world-class composer. The work is quite mysterious -- the basic theme on which the variations are based is a mystery -- theories abound regarding its identity -- all we know is that Elgar intended each variation to reflect the characteristics of one of his friends.

"Nimrod" reflects a close friend, A.J. Jaeger, who encouraged his career. The variation is probably the most famous of the 14 because of its elegiac tone -- in Britain it is regularly performed on Armistice Day and it was played also at Princess Diana's funeral.

For the finale of the concert and season, the FHSU choirs and the Smoky Hill Chorale will perform the work of another British composer, John Rutter. Rutter's "Requiem," premiered in 1985, has rapidly become famous throughout Western Europe and America. Rutter is well-known as a choral composer and conductor, and the "Requiem" has been called one of his finest works.

So, come and enjoy the concert of the season -- mark your calendars for Saturday, May 6, 2017, 7:30 p.m. in Beach/Schmidt, with post-concert refreshments provided by the Downtown Hays Development Corporation.