Education journey continues for 2017 KAMS class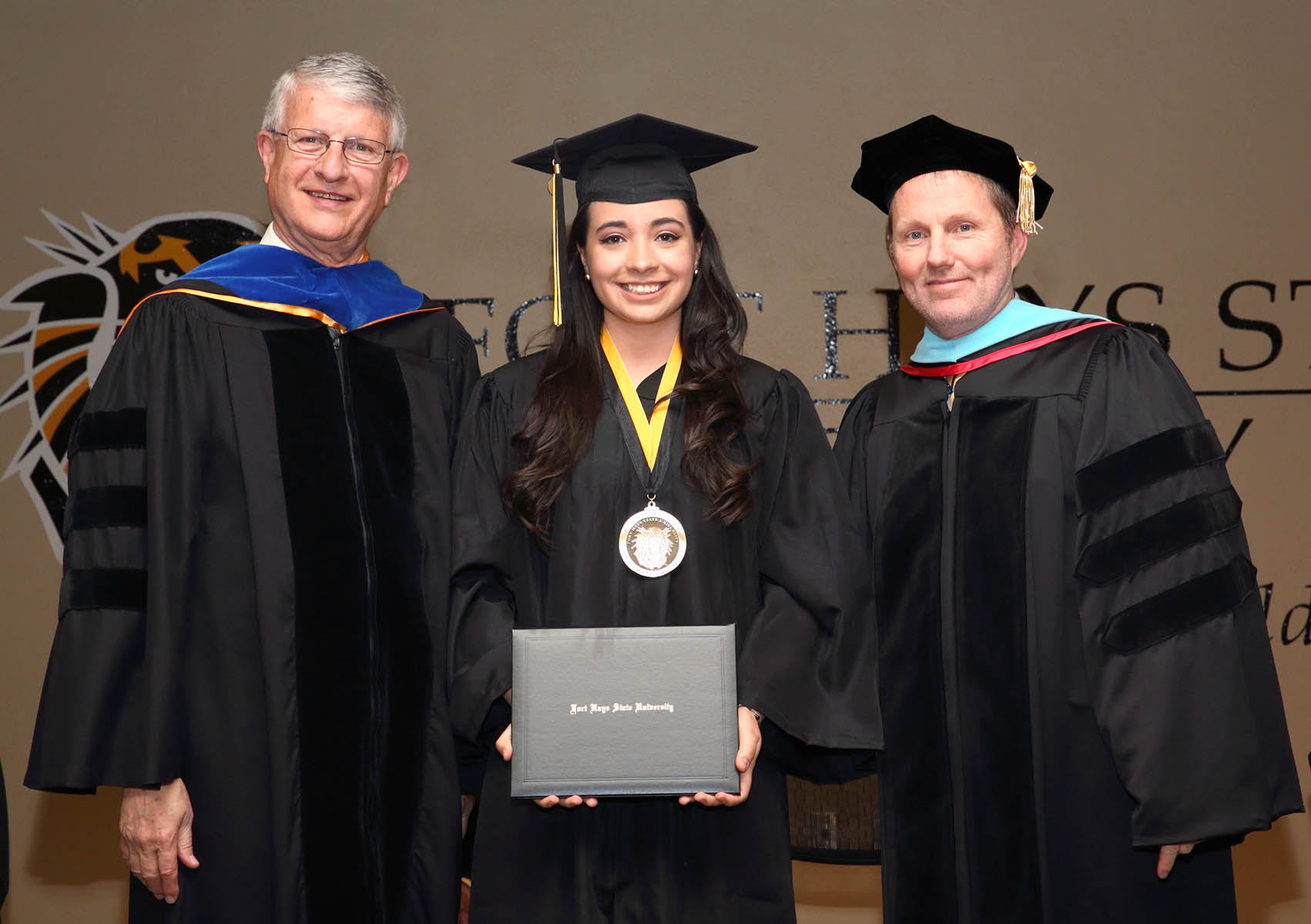 05/09/17
By Diane Gasper-O'Brien
University Relations and Marketing
HAYS, Kan. -- Like most graduations, speakers at last weekend's completion ceremony for the 2017 class of the Kansas Academy of Mathematics and Science talked about the students' success.

While it would be too time consuming to enumerate each achievement, the families present at the completion ceremony in Fort Hays State University's Memorial Union knew what their student had accomplished during their stay at FHSU.

KAMS is a premier academic high school program where juniors and seniors live on the Fort Hays State campus for two years and earn nearly 70 hours of college credit. The 2017 class of 31 is the largest to date in the seven-year history of the academy.

Following their completion ceremony, students also participate in their high school graduations back home, then move on to college the next fall.

This year, one family in particular had much to celebrate.

After just one year of studying at FHSU as a traditional college student, Norelia Ordonez-Castillo will graduate in May 2018 with a degree in pre-medicine biology, then enter medical school at the age of 19 that fall.

Ordonez-Castillo was one of only 19 applicants -- and the only high school student -- selected this year for early admission to the University of Kansas Medical School through the Scholars and Rural Health Program.

An honors student with a perfect 4.0 grade point average since grade school, Ordonez-Castillo has received numerous scholarships to continue her education at FHSU. She also was selected to participate in the prestigious K-INBRE research project at Fort Hays State. K-INBRE (Kansas Institutional Development Awards Network of Biomedical Research Excellence) is an initiative led by the KU Medical Center to identify and recruit promising university students into careers in biomedical research in Kansas.

"The opportunities at Fort Hays State have been enormous," Ordonez-Castillo said. "The rigorous coursework, being challenged with the harder courses, gave me the opportunity to evermore expand my education. I am so thankful that I chose KAMS, that I came to Fort Hays State."

The feeling is mutual.

"This is a remarkable achievement from a remarkable young woman," said Dr. Greg Farley, dean of the College of Science, Technology and Mathematics. "Speaking on behalf of her instructors and advisors, we wish her all the success in the world as she furthers her professional development."

Ordonez-Castillo said knew from the time she was a young girl that she wanted to be a doctor when she grew up. She pointed to two incidents in the past five years that "strengthened my drive to become a doctor."

Ordonez-Castillo watched her cousin go through extensive rehabilitation following surgery after she was kicked in the head by a horse. And Ordonez-Castillo's mother, Norelia Ordonez, has been dealing with a connective tissue disorder the past three years.

In both cases, Ordonez-Castillo was impressed with the doctors, not only with their medical expertise but also with how much they cared about their patients.

"I wanted to make that same kind of impact on people's lives, to help save lives," she said.
Ordonez-Castillo also learned about KAMS at a young age -- her freshman year in high school -- and immediately became interested in pursuing the opportunity.

"I told my parents about it, and they weren't so ready for me to come to college yet, so I dropped the notion," she said.

However, as she began taking general education college classes at Northwest Tech in Goodland, Ordonez-Castillo realized "that my opportunities were going to be exhausted for college classes very quickly. So the best thing to advance my education was to go to KAMS."

Her father, Daniel Ordonez, still wasn't so excited about the idea of his daughter spending her final two years of high school away from home -- until he visited the FHSU campus.

"There was some concern about our daughter going to a university campus at 16 years old," Ordonez said. "But she was really interested in it, so we decided to at least check it out."

Ordonez said he was pleasantly surprised at what he found when they visited Fort Hays State.

"It seemed that, No. 1, they were concerned about the safety of their students," Ordonez said. "After we saw how the whole program was laid out and after we visited the campus, my wife and I felt things were being done the right way."

There was one more stipulation Ordonez gave his daughter.

"We made a deal that if she went to KAMS, she would come home every single weekend, to stay connected with the family and the community," he said. "We're a traditional, close-knit family, and we wanted her to connect with her three younger brothers."

"And," Ordonez added, "we wanted to make sure the emotional support was there."

So come Friday afternoons after class, Ordonez-Castillo would head home to Goodland her first year at KAMS, then to Garden City this past school year after her family moved there last summer. She also stayed involved with activities at Goodland High School.

The arrangement was exactly what her parents had hoped for.

"Going home to be with my family so often helped me stay centered," said Ordonez-Castillo, who missed making the trip home only a handful of times in two years. "I didn't feel so disconnected from them, and my support system was still in place."

Now, she said her transition to the traditional college setting will be seamless.

And Daniel Ordonez would be the first to promote the KAMS program. In fact, his oldest son, Daniel Jr., a freshman at Garden City High School, is considering following in his sister's footsteps.

"Fort Hays State gave Norelia the opportunity to become a doctor," said Daniel Ordonez, the father.

Ordonez-Castillo will spend the summer either doing research on campus or working back home. First, she will attend her high school graduation on May 20 in Goodland, where she is in the running to be named her class valedictorian.

"For a kid so bright, so motivated, who has exceeded our curriculum in high school, this is a great thing," said Bill Biermann, superintendent of Goodland USD 352. "For someone like that to have another option to further their education is outstanding. I know she's blossomed because of it."

Nearly half of this year's KAMS class is staying at Fort Hays State to continue their education.

"The quality of the students staying here (at FHSU) to continue their education is amazing," said Dr. Roger Schieferecke, KAMS director. "They are near 4.0s, average 34 ACTs. What makes this entire class so special is the unbelievable quality of the that individuals that make up the class."

Following is a complete list of the 2017 class, including their high school and parents' names.

HAYS (67601): Myungsoo Rogan Go, Hays High School, Okler Go and Jeonghee Park, Bundang, South Korea.
Ana Goodlett, Hays High School, David and Milka Goodlett.
Kwanghyun Kay Kim, Hays High School, Kichun Kim and Youngmi Lee, Seoul, South Korea.
Hyunsoo Lee, Hays High School, Ji MinPark and Jongwon Lee, Seoul, South Korea.
Yanshuo Li, Hays High School, Xu Yan and Jinquan Li, Beijing, China.
Rujia Qiu, Hays High School, Qinghua Li, Hubei, China.
Mingyang Sun, Hays High School, Wenlin Sun and Quiju Xu, Beijing, China.
Wanyue Xu, Hays High School, Lili Liu and Zhiyuan Xu, Beijing, China.
Juntao Zhang, Hays High School, Tong Tian, Beijing, China.

BASEHOR (66007): Jacob Lutgen, Basehor-Linwood High School, David and Shannon Lutgen.

EMPORIA: (66801): Tessa Kriss, Emporia High School, Thomas and Michelle Kriss.

GARDNER (66030): Rahasya Bharaniah, Gardner-Edgerton High School, Elizabeth Demas.

GOODLAND (67735): Norelia Ordonez-Castillo, Goodland High School, Daniel and Norelia Ordonez.

HIAWATHA (66434): Sadie Miller, Hiawatha High School, Craig Miller and Teresa Yearns.

HOLTON (66436): Jacob Andrews, Jackson Heights High School, Vern and Cari Andrews.
Breck Emert, Holton High School, Jennifer Emert.

HOYT (66440): Graham Straley, Jefferson West High School, Kemper and Viola Straley.

JUNCTION CITY (66441): Cadin Sanner, Junction City High School, Troy and Judy Sanner.

LAWRENCE (66049): Luke Longren, Lawrence Free State High School, Matthew and Amy Longren.

MANHATTAN (66502): Rounak Bastola, Manhattan High School, Krishna and Sital Bastola.

MENLO (67753): Jacob Munk, Hoxie High School, Anthony and Christie McLain, Andrew and Chanda Munk.

MULVANE (67110): Samantha Schmitz, Mulvane High School, Thomas and Tracy Schmitz.

OSKALOOSA (66066): Garrison Baker-Vernon, Oskaloosa High School, Kirk Vernon and Duanette Baker.

OTTAWA (66067): Lia Boese, Ottawa High School, Steven and Jan Boese.

SALINA (67401): Jaimisen Deegan, Salina South High School, Paul and Manda Deegan.

SCOTT CITY (67871): Elaine Parkinson, Scott Community High School, Dan and Jamie Parkinson.

TOPEKA (66605): MacKinzie Foster, Carbondale-Santa Fe Trail High School, Mark and Theresa Foster.

VICTORIA (67671): Alexyss Lambert, Victoria High School, Robert and Angela Lambert.

WELLSVILLE (66092): Marisa Carman, Wellsville High School, Doug and Peggy Carman.

WHITEWATER (67154): Braden Allmond, Frederic Remington High School, Neal Allmond and Lisa Allmond.

WICHITA (67214): Ginger Garcia, Wichita North High School, Felipe Sr. and Maria Garcia.