Projects big and small highlight 2017 FHSU Technology Education Fair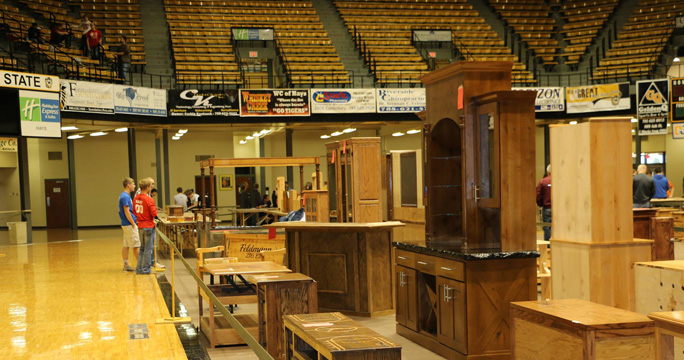 05/01/17
By Diane Gasper-O'Brien
University Relations and Marketing
HAYS, Kan. -- A tiny house and a program from one of the smallest schools in Kansas won some of the top awards at the 2017 Western Kansas Technology Education Fair last week.

But there was nothing little about the amount of work that went into the students' projects on display Friday in Fort Hays State University's Gross Memorial Coliseum.

Students from 33 schools brought projects they had been working on all year, a culmination of a lot of planning and building -- in and out of regular class time.

"I had kids come up on Sunday afternoons to work on this," Brent Kerr, technology education instructor at Ness City, said of his students' 330-square-foot house on wheels that won the Dennis McKee multi-pupil award.

"The students did pretty much everything, except for the concrete countertops and the spray foam insulation," Kerr added. "They framed up the walls, laid the flooring, did the welding, plumbing, electrical. It was a great experience."

Claiming the Ross Beach Sr. Award for outstanding program of the year was Natoma High School, whose students get the rare opportunity to use a sawmill to cut their own wood for their projects.

"We just have to specialize programs with what we can," said Chris Broeckelman, in his 11th year of teaching at Natoma. "Brent's program was able to do the house construction, and I'm more into furniture and cabinetmaking. You have to do whatever works for you and your school."

Natoma -- with an enrollment of 28 and one of seven high schools in the state with less than 30 students -- has a brand new sawmill, thanks to a grant from the Dane G. Hansen Foundation in Logan.

Broeckelman and his students fixed up an old sawmill they purchased in 2010 and began cutting and drying their own wood in 2011. The Hansen grant helped in purchasing a new sawmill this year.

"We wanted to specialize in the processing of the wood," said Broeckelman, also in charge of the applied technology program in Natoma's junior high school. "The kids learn a lot from the whole process and have a real ownership in it."

Local and area farmers wanting to clear their land donate trees to the school, and others come from nearby Paradise Creek.

Natoma's Joseph Raat used some of the walnut pieces he cut himself to build a canopy bed his senior year in high school last year, and it won the top production award.

Now, Raat is a freshman at Fort Hays State, majoring in applied technology with an emphasis in education.

"Mr. Broeckelman was like a father figure to me in high school," Raat said. "So I wanted to go to FHSU, where he went. I guess you can say I'm following in his footsteps. I plan on teaching when I graduate."

Participating in the tech fair is a commitment, with the students finishing their projects before the end of the school year, hauling them to Hays and carefully loading and unloading them twice.

"It's a ton of work for the instructor and the students," Broeckelman said. "But I think it's worthwhile. It gives the kids some self-confidence, and they get to show off the hard work they've done all year."

Large schools also were well represented at the 2017 fair.

Salina Central, a Class 5A school with more than 1,000 students, swept the drafting competition for each grade level 9 through 12. Salina Central, which also claimed the top communication award, was led individually by senior Zach Pipp, the winner of the Richard Cain Communication Award.

Hays High School, a 4A school, kept several awards in Hays.

Hays High junior Ethan Tschanz earned the Ralph Huffman Award for the power and energy category after making the finalist list as the top 11th-grader in that category with his electronic bed headboard with speakers and LED lights. HHS senior Alanna Hansen won top honors for her class in metal works, while Matt Fross also won the top metal works class award for 10th-graders. And Hays Middle School also took home some plaques in the junior high divisions.

Rounding out the top awards of the fair was James Little, a senior from Kiowa County High School in Greensburg, who won the Ed Davis Award for production on his highboy dresser with an attached mirror. Little also won the Fred Ruda Legacy Award, a people's choice award named after Ruda -- long-time chair of the Technology Studies Department -- who died in a vehicle accident in 2012.

The projects are critiqued by different groups of judges, and the entire fair is put on by Fort Hays State students in the Technology and Engineering Education Collegiate Association. The Fred Ruda Legacy Award is voted on by instructors at the fair.

Numerous other awards were given out, including several for on-site competitions throughout the day.

The event is a reunion for several instructors from the schools, the majority of whom are Fort Hays State graduates.

"It was a great day," said Kim Stewart, chair of the Department of Applied Technology who is an FHSU alum himself. "We love it. It's the pinnacle of the events for the year for our department."