Wet ground complicates parking situation for Commencement at Fort Hays State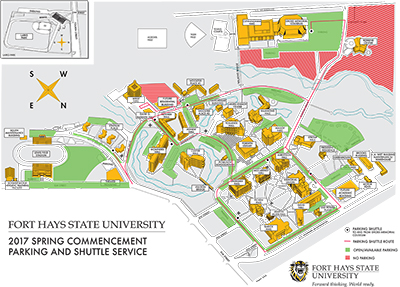 05/11/17
HAYS, Kan. - Rain has closed two grass parking lots, totaling 800 parking spaces, at Fort Hays State University, and they will not be available for the Friday and Saturday Commencement ceremonies.

The two lots are on the east side of Gross Memorial Coliseum.

The university is adding shuttle buses and stops on the main campus.

Shuttles will begin running at 4:30 p.m. for Friday's ceremony and at 7:30 a.m. for the Saturday event.

Graduates, their families and friends are encouraged to allow extra time to get from their vehicles to Gross Coliseum.

A map, detailing the open parking lots and shuttle stops, can be found through the Parking Map button on the commencement page, fhsu.edu/commencement.

Two streets in the city of Hays are also under construction. Eighth Street is closed to eastbound traffic from Milner to Vine, and Old Highway 40 is closed to westbound traffic from the Eighth Street junction to Vine.