FHSU'S Hispanic College Institute set for next week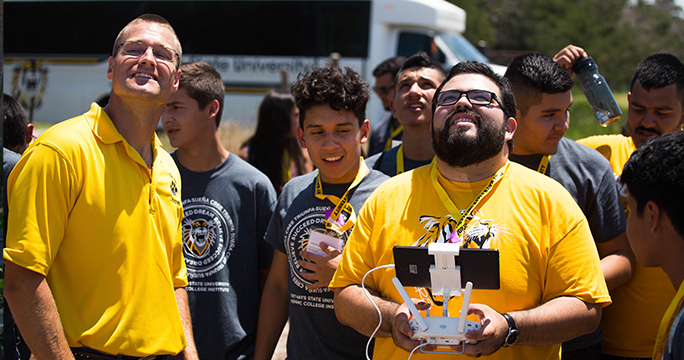 06/16/17
By Diane Gasper-O'Brien
University Relations and Marketing
HAYS, Kan. -- As director of the 2017 Hispanic College Institute at Fort Hays State University, Ulises Gonzalez will have a lot of contact with the high school students participating in the program on campus next week.

The HCI, in its second year at Fort Hays State, is an on-campus program for Hispanic students who will be juniors or seniors in high school next year.

A lot of the participants are first-generation college students for their families. They live on campus for four days in June -- free to the participants because of corporate sponsorship -- and return home with a better understanding of the importance of earning a college degree.

Gonzalez can certainly speak from first-hand experience on the challenges of being a first-generation college graduate.

The only one of his four siblings to graduate from college, Gonzalez was part of the TRIO program while growing up in Garden City. TRIO is a multi-faceted federal support services program that helps students from low income and working families successfully enter college and then graduate.

During participation in the program, Gonzalez was offered several college visits.

"This was one of my favorite visits," he said of Fort Hays State. "It was close to home, and people were very friendly here; I felt very welcome."

The welcoming committee for this year's 65 HCI participants will begin Wednesday when buses travel around the state, and to Colorado and Missouri as well, to personally pick up the students and transport them to Hays.

While on campus, the students will learn the ins and outs of what it takes to apply for college, how to choose a major and what college life is like in general. There will be sessions featuring Hispanic leaders, mentors and role models. Students will participate in various workshops, including ones on team building and public speaking and interviewing skills.

Students will compete for scholarships during the week, and they will get the chance to meet with representatives from FHSU's financial aid office -- an invaluable session, Gonzalez says.

"One of the biggest things for me was not having the opportunity to go to college because of finances, so that's great that they will get to learn about those opportunities," Gonzalez said.
"Just learning how to fill out a college application will help so much."

At first, Gonzalez said "I was just very happy that I got the opportunity to come to college."
He soon learned that a successful college career wasn't just about earning a degree. He became involved in several organizations and successfully ran for student body president in 2015.
"I looked at it as a time to get involved and take the opportunity to learn as much as I could," said Gonzalez, who graduated from FHSU in May with a degree in tourism and hospitality management.

"I've been very involved in some things I never thought I was going to do," he added. "It helped me learn some skills and do things I would have never thought I would have possibly done."

Those are the same type of opportunities that Gonzalez hopes this year's HCI participants will think about in the coming year as they consider going to college.

There are 10 students who are back for a second year at HCI.

"They came as juniors last year, and now they are seniors," Gonzalez said. "Hopefully, it will encourage them to go to college, if they choose Fort Hays State, that's even better."