It's double the pleasure for FHSU runners at NCAA D-II national meet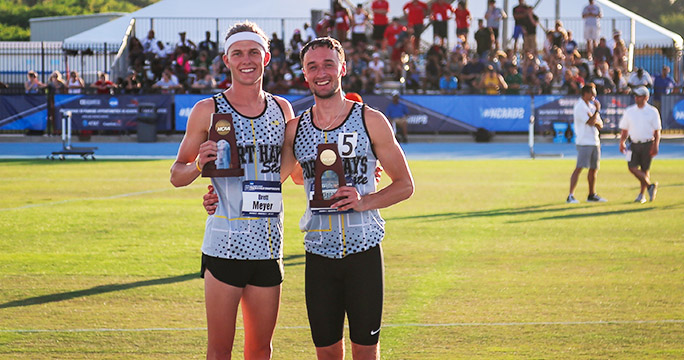 06/05/17
By Diane Gasper-O'Brien
University Relations and Marketing
HAYS, Kan. --There is a fine line between not even making the finals of the 800-meter run at nationals and winning the national championship.

Two Fort Hays State University athletes both qualified for the 800 finals at the NCAA Division II National Championships in Bradenton, Fla., on May 26.

The next day, teammates Dean Cronin and Brett Meyer made the most of their opportunity.

Cronin, a junior from Cork, Ireland, used his signature kick down the stretch and won the national title with a sub 2-minute time of 1:49.75. Only 1.21 seconds separated the winner and Meyer, a sophomore from Scott City, who finished in seventh place.

The top eight finishers at nationals earn first-team All-America honors, and Fort Hays State had two runners raising their trophies at the same time on the winners' stand. For a complete list of FHSU athletes who received All-America honors in 2016-17, visit the athletics website at fhsuathletics.com.

To show just how tough the competition was in the 800, the defending national champion, Shaquille Dill from St. Augustine's (N.C.) University, finished fifth in 1:50.86.

"In that race, everything has to go just right," said Dennis Weber, FHSU's head track and field coach. "One little mistake, and it can make a huge difference."

The FHSU duo hugged at the completion of the race, thankful for each other and each crediting their teammate for their success.

"We are kind of the dynamic duo," the soft-spoken Cronin said with a smile. "I would not have done as well this year without Brett. He helps me with mileage, and I help him with speed."

"It is such a competitive environment here," he added in reference to American competition.

The feeling is mutual for Meyer.

"We definitely help each other; we push each other really hard," he said. "I don't know if I would have made it to nationals if he hadn't come to school here."

Cronin said it was a "blessing" to get recruited by Fort Hays State after suffering through an injury-plagued sophomore season at Iowa Central Community College in 2014-15.

Cronin had won the 800 meters and was part of the national championship 3,200-meter relay as a freshman at Iowa Central in 2014, setting school records in both. But after battling back problems as a sophomore, he returned home to Ireland, uncertain of his future in running.

Then came an email from Jason McCullough in Hays, Kansas. FHSU coaches were familiar with athletes from Iowa Central because several already were a part of the FHSU team.

"It was good timing for us," said McCullough, in charge of the middle distance and distance runners at Fort Hays State. "We still had a scholarship available, and we had a connection with his friends from Iowa Central."

Cronin thought it was a good fit for him from the start, and nothing has changed his mind.

"I could have gone to a bigger university, and it wouldn't have been nearly as good as here," Cronin said. "The facilities, the coaching, are fantastic."

So much so that Cronin hopes to qualify for the World University Games in August in Iowa.
Rather than going home to Ireland for the summer, Cronin is staying in Hays to train with his coach, a former All-America runner at FHSU who still runs 70 to 100 miles a week.

Now healthy, Cronin -- the No. 2-ranked 800 runner in Ireland -- has his sights set on competing for his native country in the 2020 Olympics.

"If Coach McCullough trains me up, I think I can do well at the World Games," Cronin said. "With the mileage and training this summer, I hope to continue to improve."

For Meyer, it was the second All-America performance in just three months; he placed fifth at the national indoor meet in Birmingham, Ala., in March.

Although he was a three-time state champ in track his senior year in high school in 2015, Meyer will be the first to admit he did not see this coming.

A multi-sport athlete at Scott Community High School, Meyer didn't start running track until his sophomore year of high school. But it was obvious early on he was a natural for his sport.

In his first year of running competitively, Meyer finished fifth at state in the 800. He followed up his fourth-place finish as a junior with three golds his senior year.

Even then, Meyer was flying -- or running, if you will -- under the radar.

But FHSU, a Division II school with a tradition-rich track and field program just a couple of hours from Scott City, was keeping an eye on Meyer.

"I didn't have many offers in high school, and Fort Hays State offered me a nice scholarship," Meyer said. "I have people asking me now, 'Don't you wish you would have gone D-I?' I tell them, 'No, D-II is very good, too.' And it's kind of fun being one of the top athletes at your school rather than just in the middle of the pack."

"And," he added, "look at our facilities."

Meyer was referring to the 4-year-old Schmidt-Bickle Training Facility and a new track and field complex with an Olympic-style track, completed just this spring. The track features 85-meter straightaways and 115-meter curves rather than the typical 100 meters for both straightaways and curves. Those dimensions, which makes the track more of a circle than the traditional oval shape, is the standard used for international competitions, including the Olympics.

"The gradual curves are supposed to make for a little faster times," said McCullough, who admits he is looking forward to this summer -- and beyond.

Cronin, who already owns the indoor 800 school record of 1:50.27, is chasing the outdoor mark of 1:49.04 set more than 40 years ago by Jon Nelson in 1973.

Cronin's fastest outdoor time to date was 1:49.74 at a last-chance meet in early May in Colorado Springs, Colo. For the purpose of NCAA rankings, that time was converted to 1:48.94 because of altitude. But only scratch times, and not converted times, are eligible for school records at FHSU.

However, Cronin is confident that having McCullough as his coach and Meyer as his training partner that he will be able to erase the outdoor record, too.

Meyer, too, has lofty goals.

"Coming here, I didn't think about even making it to nationals," Meyer said. "Now, I hope it's an every-year thing."