Volunteer of the Year Award announced at annual FHSU alumni meeting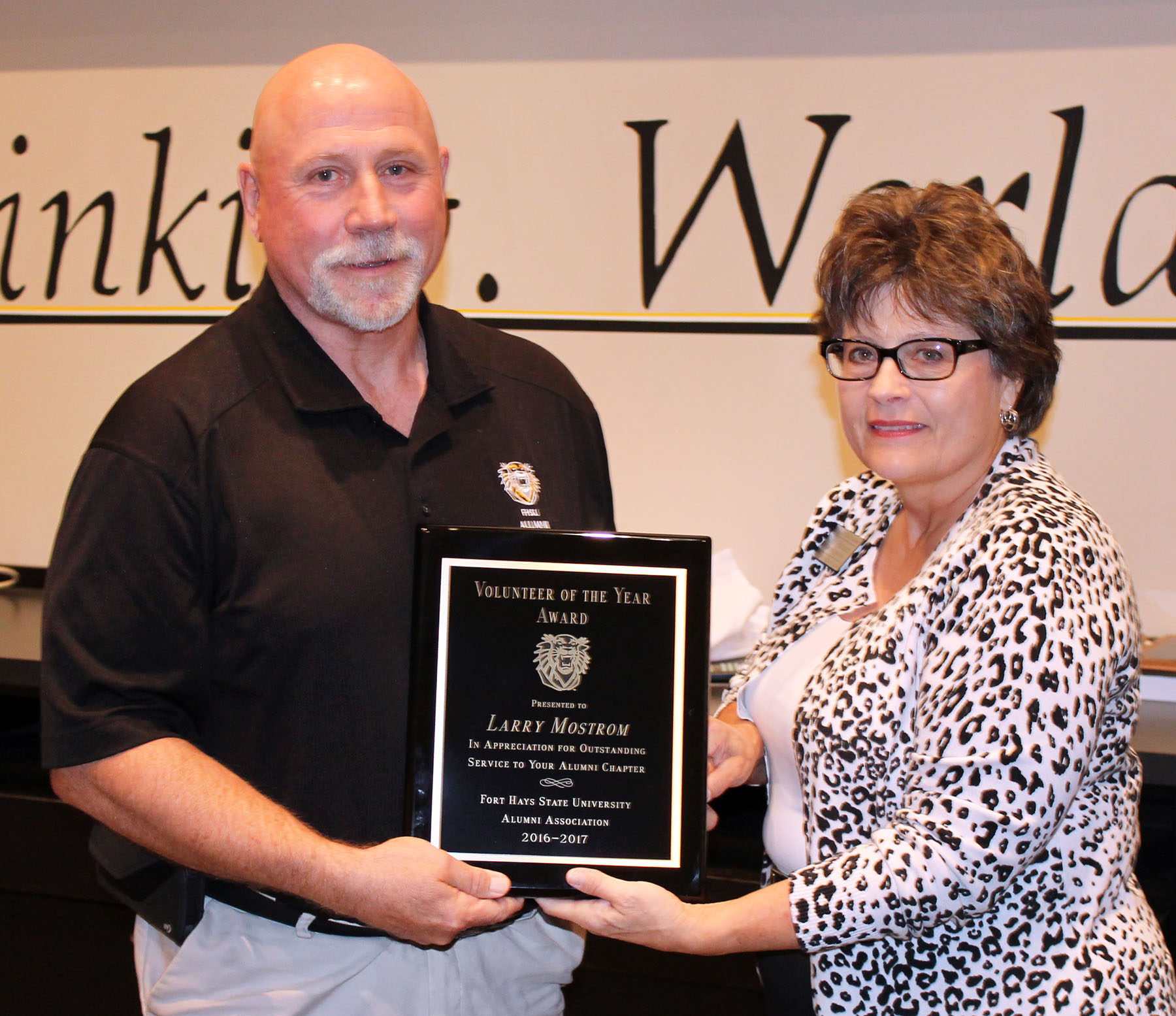 06/28/17
HAYS, Kan. - The Fort Hays State University Alumni Association Chapter Volunteer of the Year award recipient was announced at the recent annual meeting in Hays of the Association's Board of Directors.

Larry Mostrom, Topeka, received the 2016-17 Chapter Volunteer of the Year award. Mostrom, a 1979 FHSU graduate, owns Mostrom Enterprises. He has served as president of the Capital Area Tiger Chapter, headquartered in Topeka, for the last three years. He has also served on the volunteer leadership committee since it was established in 2011, assisting with the development, coordination and hosting of chapter events and activities.

In support of his nomination, fellow members of the Capital area leadership team said: "Larry's leadership has resulted in expansion of chapter activities without exhausting its volunteers. He has encouraged the leadership team to take advantage of events that bring FHSU athletic teams, alumni and fans to Topeka. At the same time, he has engaged volunteers with the talent and connections to plan and carry out fun and family-oriented events for alumni in our area."

"Larry is personable and dependable. He follows through on his commitments to the chapter and its volunteers," the citation continued, noting that he is usually "the first person to arrive at an event and the last person to leave."

Established in 1916, the Fort Hays State University Alumni Association serves FHSU graduates by identifying needs and providing solutions. More than 63,500 graduates live throughout the United States and in approximately 77 countries. FHSU chapters are active across the states of Kansas, Oklahoma and Texas.

For information on how to participate, contact the Alumni Office at 785-628-4430, toll free at
1-888-351-3591 or by email at alumni@fhsu.edu.

Cutline: Larry Mostrom, Topeka, left, is the 2016-17 recipient of the FHSU Alumni Association's Chapter Volunteer of the Year Award. Presenting the award is Executive Alumni Director DeBra Prideaux.