U.S. President murals in FHSU's Wiest Hall to be preserved digitally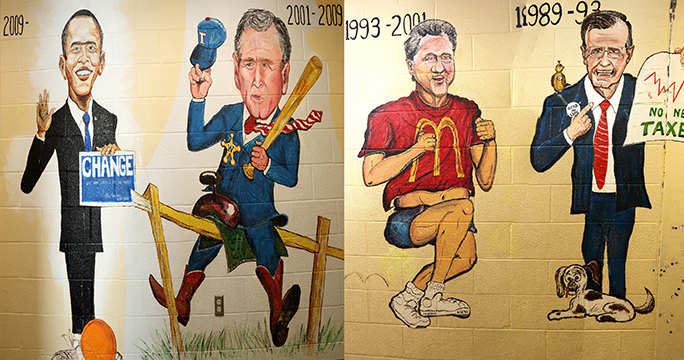 07/07/17
By Diane Gasper-O'Brien
University Relations and Marketing
HAYS, Kan. -- The old is making way for the new at Fort Hays State University with construction of five new academic and residential buildings either currently under way or in the planning stages for completion over the next four years.

With a new 406-bed residential facility opening this fall, the second-largest residential hall on campus -- Wiest Hall -- is coming down. Asbestos abatement in Wiest was scheduled to begin this month, followed by demolition this fall.

However, a piece of Wiest history will be preserved through digital photography. Murals of 10 U.S. presidents line the hallways of the sixth-floor north wing.

Because the murals were painted directly onto the cinder block walls, they are virtually impossible to save intact.

But the memories will be preserved. Digital images of the murals are available by contacting the office of University Relations and Marketing at (785) 628-4206.

The seven-story addition to the original Wiest Hall building was just five years old when Tom Moorhous came to school at Fort Hays State in 1976. Little did anyone know, the budding artist would become a part of FHSU history.

A transfer from Colby Community College, Moorhous was pursuing a bachelor of fine arts degree and was assigned a room in Wiest.

It was long before the rage of video games. Moorhous and his roommate only had a small black and white television in their room, one that picked up only a couple of channels.

One day while leaving room 604, Moorhous looked out his door at the plain hallway and decided it could use some character.

"It was out of boredom actually," he said. "That's how it all got started. I had plenty of time on my hands, and the walls became my canvases."

Moorhous successfully sought approval from the housing director to begin painting a mural on the wall, and thus a 32-year project was born.

While Gerald Ford was president at the time, Moorhous was a lover of history. So he started painting a caricature of John F. Kennedy, who Moorhous truly admired.

"They must have liked JFK, so much that they asked me to do more," Moorhous said.

"So," he added, "I just kept painting."

Moorhous decided to stick to the timeline and moved on to Lyndon B. Johnson and Richard Nixon, then Ford.

By the time Jimmy Carter became USA's 39th president in 1976, Moorhous' paintings were the talk of Wiest -- and the word soon spread around campus as well.

"One thing led to another, and I did Gerald Ford and started Jimmy Carter after he was elected in 1976," Moorhous said.

Moorhous graduated with his bachelor's degree in 1978 and taught high school art for one year before deciding to return to FHSU to work on a master's degree in political science.

As a resident assistant, Moorhous was assigned a room on the second floor of Wiest. But he frequently found his way back up to sixth floor and continued working on the paintings. After graduating with his master's in 1981, he took a teaching job at Barton County Community College in Great Bend.

"But every four or eight years, I'd come back to paint a new president," he said.

He also had to move to a wall across from the original paintings. Ronald Reagan went up in 1983, followed by George Bush in 1989 and Bill Clinton in 1994.

Once again, Moorhous returned to FHSU -- and Wiest Hall -- in the late 1990s, to work on a master's in history. He moved south across a doorway to paint George W. Bush in 2002 before painting his last president, Barack Obama, in 2008.

Each painting depicted something specific to each president, ranging from Kennedy's familiar pose behind a lectern giving a speech, to Carter, a peanut farmer, standing in a pile of peanuts. Clinton is shown jogging in a sweatshirt with the McDonald's Restaurant arches imprinted on it; he once ran into a McDonald's for a drink while out jogging.

Obama, the first African-American president, is holding a sign with the word "CHANGE" written in large letters across the top.

While a lot of students didn't even know the paintings existed back in the '70s and beyond, several who lived in Wiest looked at them as a shrine and still remember them today.

One of those is Dan Schmidt, who lived on the seventh floor of Wiest during Moorhous' first stint in Wiest.

"Oh, yes, I remember him painting those," said Schmidt, who graduated from FHSU and went on to optometry school in Tennessee. He then returned to Hays to open his practice, which he still operates today.

"I thought it was interesting that he was doing all that," Schmidt added, "and I'd come down to watch him paint."

Schmidt was particularly drawn to the painting of Carter, since 1976 was the first election in which he could vote.

"I've always kind of wondered if they painted over those murals," Schmidt said. "I'm glad to hear that they left them alone -- and that they are being preserved in some way."

Tom Kuhn from Hays agreed.

"Those murals were real popular, and it's amazing how much respect they got," said Kuhn, who lived in Wiest as a student and as a residence hall director for eight years during the '70s.

Kuhn returned to his alma mater to work for 13 years before retiring in 2012 and spent part of his time in Wiest while Picken Hall was being renovated.

"Practically everything was fair game when it came to vandalism back in the '70s, but those paintings were pretty much left alone," Kuhn said. "I am so glad that they are being preserved now."

Shortly after earning his second master's degree, Moorhous began teaching at Colby Community College, and after at 16-year stint there, he is semi-retired and living in his hometown of Oakley.

He has enjoyed reminiscing about the paintings.

"I was a decent amateur artist back then, and I really enjoyed painting," Moorhous said. "Art is only a minor hobby now. I don't have any reason to paint anymore, but I am glad I did back then."