FHSU graduate student, a Fulbright semifinalist, headed for study in UK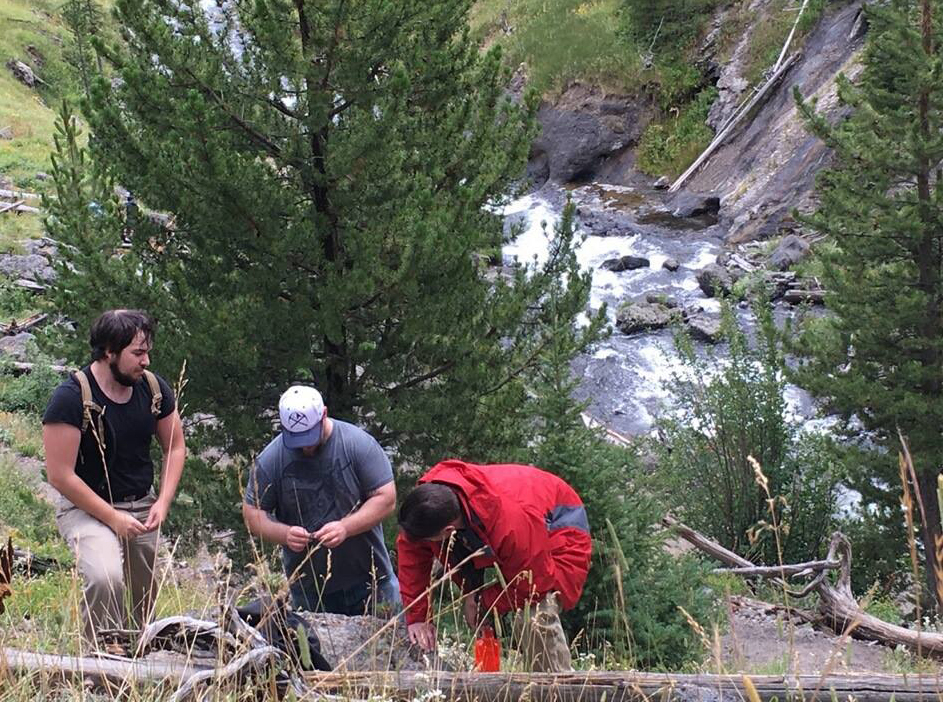 08/22/17
HAYS, Kan. - It's a long way from looking for fossils in the gravel on an Alabama road to studying for a Ph.D. in paleontology at the University of Bristol, United Kingdom, but that's exactly the path that James Logan King is traveling, with a brand new M.S. in geosciences from Fort Hays State University.

That path is partly due to his selection as a semifinalist for the Fulbright Award.

The United Kingdom is one of the most competitive environments for awards, so being selected as a semifinalist for any U.K. award is a significant honor. Final Fulbright Awards are announced in late spring, and King found out then that he had not been selected. However, his story does not end there.

Because of the prestige of being selected a semifinalist, King, Sulligent, Ala., was awarded one of just a few available international fee waivers by the University of Bristol, reducing his tuition cost to about $5,000 per year, just one-fifth of what a non-U.K. student would normally pay. That put his dream of studying at Bristol within reach.

King says that is not the only benefit he has received from his selection as a Fulbright semifinalist. He can put the award on his resume and, he said, "I have had comments on my Fulbright success in three separate states from five different people - all of whom were in my field and are potential research collaborators."

King has this advice for students who want to apply: "Students do not have to look at the program as a win/lose or pass/fail kind of situation. If they can make it past any of the milestones along the way, they can claim it as a meaningful event to help them to the next stage of their education or career. All it takes is knowing what they want to do, a little writing, and a few letters of recommendation. There is zero risk involved in applying to the Fulbright."

Dr. Lexey Bartlett seconds that advice. She is an associate professor of English at FHSU and the university's advisor for nationally competitive scholarships, including the Fulbright Study Awards.

"The process of applying is itself meaningful because it helps you to define your goals and learn to write about yourself in ways that are useful in every career path," she said. "And as Logan has seen, any amount of success in the process may lead to other benefits or opportunities."

She added, "That is also true of any of the fellowship opportunities I can assist students in applying for."

King began his Fulbright application in September 2016 on the recommendation of Dr. Michael Benton, his future advisor at Bristol. His path led him to Bartlett. She helped him polish his application and provided the required institutional recommendation.

In the month leading up to the deadline in early October, King refined his application, which included a personal statement about how he developed an interest in paleontology and a passion for sharing his knowledge in museums like FHSU's Sternberg Museum of Natural History, where he worked with younger students during his graduate studies in outreach programs just like the ones that inspired him as a teenager in Alabama.

The application also included an outline of the research King plans to conduct during his doctoral studies, which he summarizes as "using reconstructed brains of dinosaurs, birds, and crocodilians to see how the brains of each organism changed during different developmental stages of their lives."

From this, he hopes to gain "a clearer picture of how similarly (or differently) dinosaur brains developed in respect to their descendants - birds - and their distant relatives - crocodilians."

King credits a number of mentors for his success, aside from the Fulbright advisor and selection committee at FHSU, which included Dr. Greg Farley, dean of the Peter Werth College of Science, Technology, and Mathematics; Andree Brisson, coordinator of study abroad and exchange programs; and Leslie Paige, director of the Office of Scholarships and Sponsored Projects.

He especially thanked two FHSU faculty members, Dr. Keith Bremer, assistant professor of geosciences at FHSU, and Dr. Reese Barrick, director of the Sternberg Museum, who mentored him and wrote letters of recommendation.

"The Fulbright, like many highly competitive programs, pulls a lot of its opinion of the applicant from his or her letters of recommendation," said King. Making it as far as he did in the process, he said, also "reflects how much I have learned from them. I would not have made it past the initial Fulbright committee meeting without their support."

However, without an early mentor, Dr. Fred Andrus of the University of Alabama, King's path to doctoral studies would have been cut short.

"I had a very colorful undergraduate career that was productive for my introduction to research but borderline disastrous for the rest of my classes," he said. "I think Dr. Andrus saw some kind of potential that was lost to most of my other professors. He is the one that pushed me to try for a graduate program and kept my research ideas alive."

These experiences have led King to give some final words of advice to other students and the faculty who mentor them.

"If I can make it from almost nothing to the place I am today, then anyone that applies for the Fulbright can do it," he said. "Please let students know that I am not an exception that just happened to luck out. Get students to talk to their advisors, hone their interests, and apply. The worst thing that can happen is someone says 'no.' "

And even that "no" may not be the end of the story. It wasn't for King.

Cutline: Part of Logan King's graduate work for Fort Hays State University, Hays, Kan., was at Yellowstone National Park. He is pictured here, left, at the park with fellow FHSU graduate students Cyrus Green, Tallahassee, Fla., and Pike Holman, Aurora, Colo.