Sternberg finishes another successful summer of science camps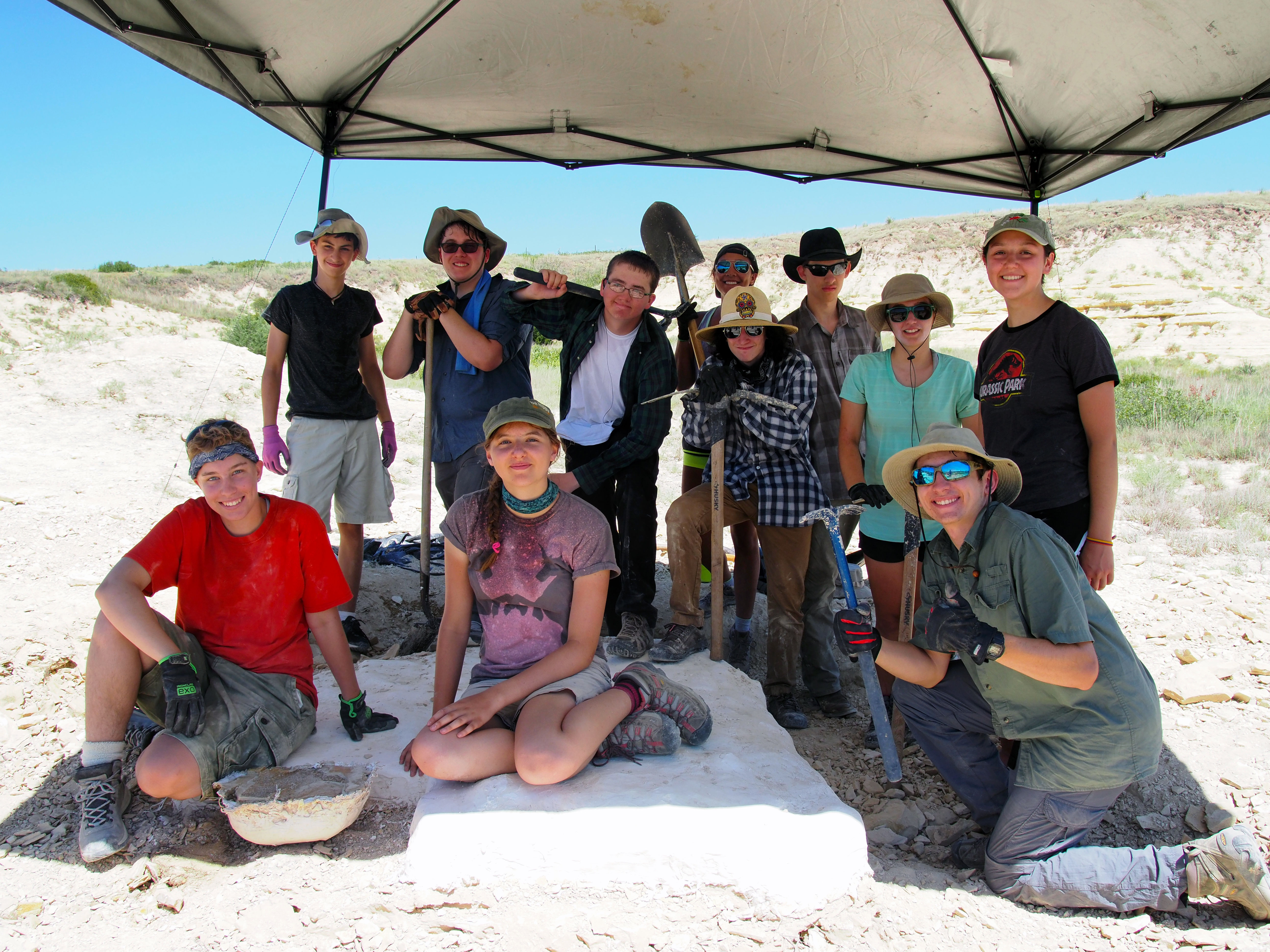 08/02/17
By Randy Gonzales
University Relations and Marketing
HAYS, Kan. - The fourth year of summer science camps and programs through Fort Hays State University's Sternberg Museum of Natural History has just been completed.

Sternberg education director David Levering already is looking forward to next year - and the year after that.

"I've been thinking about next year since probably April," Levering said, adding he also is working on big projects for camps in summer 2019. "More things are coming. It's a matter of putting a bow on it before we talk about it too much."

When Levering joined Sternberg, he wanted to introduce summer camps for students in elementary school, middle school and high school. This summer, there were nine single-day camps - including three new ones - for elementary school children. Two middle school camps allowed students to be outdoors exploring nature. In addition, high school students had three outdoor camps to choose from. One new camp for high school students was a two-week trip to the Andes cloud forests in Ecuador. Levering and three students made that trip.

One of those students who trekked to Ecuador was Maggie Wolf, who is from Kansas City, Kan., and just graduated from Piper High School. Wolf previously attended Sternberg camps in 2015 and 2016; this year, after the Ecuador trip, she was one of two students who transitioned to become support staff for the summer.

As a staff member, Wolf did everything from helping to organize activities, packing and unpacking and keeping campers focused. She has been pleased with her Sternberg summers.

"I've really enjoyed it because I've gotten to experience a lot of different things," Wolf said. "I'm hoping to keep working next summer and do some of the biology programs."

Wolf appreciates FHSU and Sternberg putting these camps together.

"I think it's a really good opportunity," she said. "I'm really glad it's something Fort Hays State does. I've grown a lot from the programs, personally. I'm really glad it's available to so many people."

The availability to attend the camps is aided by scholarships made possible through donations. In the first year, there was $1,500 in scholarships for campers. This summer, $9,300 was awarded - most of it going to help Kansas students.

"The financial aid has been extremely important for the growth of the program," Levering said.

Levering also appreciates the parents' commitment.

"I think one of the things I'm most pleased about is the buy-in of the parents," he said. "I've had a lot of good conversations with parents about the growth they see in their kids in a week's time."

Alese Thompson, a 16-year-old from Beverly Hills, Mich., who will be a high school junior in the fall, attended her first Sternberg camp this summer. She usually does a horse camp but wanted to do something different. Research online found FHSU's paleontology camp.

"I've been into dinosaurs my whole life," said Thompson, who would like to come back next summer. "It's been awesome."

Thompson completed a two-week camp last week. The first week, she was in the field, looking for fossils at Castle Rock, located near Quinter. The second week was devoted to looking at skeletons of different fish, birds and amphibians in the FHSU biology anatomy lab and memorizing them.

Ethan Couture, 16, from Dixfield, Maine, finished his fourth Sternberg camp last week. His father was in the military and stationed at Fort Riley when Couture's science teacher recommended he attend the middle school camp.

"The information is fantastic," Couture said. "I learn something new every year I come here. Meeting people who are just as interested in paleontology is fantastic."

Couture said FHSU and Sternberg putting these camps together is important.

"I believe it shows they care about the future of paleontology," he said. "They're willing to put themselves out there to expand this career field."

Levering said the camps nurture an interest that is already there.

"It's offering them opportunities to do something they are interested in outside of a classroom setting," Levering said. "What it says about Fort Hays State is a commitment to developing young people and pursue careers they are interested in."

For Wolf, traveling to Ecuador as part of the Sternberg summer science camps helped her realize what she wanted to do.

"It was incredible, I had never been anywhere like that," Wolf said. "It was a really cool experience to go somewhere thoroughly different from Kansas."

"In the past, I had an idea of what I wanted to do in the future," she added. "It really showed me how much I enjoyed birds, specifically. It showed me something I might want to pursue in the future, research-wise."