2017 Alumni Award recipients announced at Fort Hays State University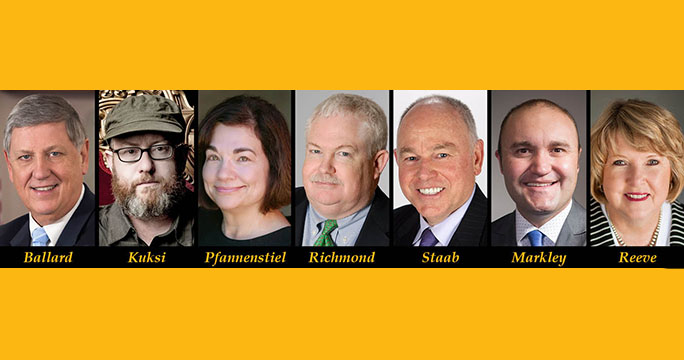 09/29/17
NOTE: PRINT-QUALITY PHOTOS OF THE AWARD WINNERS CAN BE DOWNLOADED THROUGH THE "ALUMNI AWARDS 2017" LINK ON THE PAGE AT http://bigcat.fhsu.edu/currentevents/news_photos.php.

HAYS, Kan. - Seven alumni of Fort Hays State University will be honored at the Alumni Awards and Recognition Banquet Friday, Oct. 6, during Homecoming celebrations.

Five honorees will receive the Alumni Achievement Award, the association's highest honor, established in 1959 to recognize graduates who have made outstanding and unselfish contributions in service to their community, state or nation as citizens, in chosen career fields or through philanthropic work.

This year's recipients are Keith Ballard, Ed.D., a 1971 graduate, Claremore, Okla.; Kris Kuksi, 1998, Lawrence; Mary Ann Pfannenstiel, Ph.D., 1974, Lincoln, Neb.; Douglas "Doug" Richmond, J.D., 1980, Olathe; and Michael Staab, J.D., 1978, Winnetka, Ill.

One alumnus will receive the Young Alumni Award, which is granted to graduates of 10-through 15-year reunion classes to recognize those early in their career for significant business or professional accomplishments or for service to the university and the Alumni Association. This year's recipient is Benjamin "Ben" Markley, D.M.A., 2005, Laramie, Wyo.

The Nita M. Landrum Award for alumni or friends who have provided sustained volunteer service for the betterment of the Alumni Association or FHSU, especially in their home communities or at any local level, will go to Brenda (Frazier) Reeve, 1979, Garden City.

ALUMNI ACHIEVEMENT AWARDS
Keith Ballard, Ed.D., Claremore, Okla., is a professor and director of the Professional Development and Leadership Academy in the Jeannine Rainbolt College of Education at the University of Oklahoma, Tulsa. He received a Bachelor of Arts in psychology in 1971 from Fort Hays State University. In 1974, he received a Master of Education, reading specialist, from Northwestern Oklahoma State University, Alva, followed by administrative certification from Tulsa University in 1977. Ballard completed his doctorate in educational administration in 1992 at Oklahoma State University, Stillwater.

He began his career teaching in the Coweta and Oologah Public Schools before beginning a career as an administrator, first as an assistant high school principal in Oologah in 1977, eventually working his way up to superintendent of Oologah schools in 1986. He was superintendent in the Claremore Public Schools from 1992 to 2000, when he became executive director of the Oklahoma State School Boards Association, a position he held until 2008, when he was named superintendent of Tulsa Public Schools. In 2015, he accepted his current position in the Rainbolt College of Education.

Kris Kuksi, Lawrence, received a Bachelor of Fine Arts in studio painting in 1998 from Fort Hays State University. He then completed a seminar on studio painting at Santa Reparata International School of Art in Florence, Italy, in 2001, followed by a Master of Fine Arts in studio painting from FHSU in 2002. Kuksi also completed seminars in "Old Masters - New Visions" in Austria and Germany, in 2002 and 2005 respectively. He is a world-renowned American artist with works in exhibitions and private collections across the globe.

Kuksi's inspiration comes from industry and machinery. His work encompasses 3D media as well as drawing and painting. He has exhibited from California to New York and on to Europe, Asia and Australia. His work is also featured in public and private collections around the world. Kuksi's work has been recognized and celebrated in many publications including The New York Times, The Week, LA Weekly, and The Washington Post. He has recently published a book of his unique artworks through Rizzoli International.

Mary Ann Pfannenstiel, Ph.D., Lincoln, Neb., is the vice president of laboratory services and research at Benchmark Biolabs. She received a Bachelor of Science in biology from FHSU in 1974, followed by a Master of Science in plant pathology from Kansas State University, Manhattan, in 1976. She received her doctorate with a major in phytopathology and a minor in biochemistry from the University of Wisconsin-Madison, in 1980.

She began her career as a senior scientist with ARMOS Corp. in South San Francisco, Calif. After that, she was a senior investigator for Smith Kline Beecham Animal Health in West Chester, Pa. She spent 1995 as a technical editor and scientific writer before becoming co-founder and co-owner of Benchmark Biolabs Inc. During her professional career, she developed and patented technology, manufacturing methods and processes for vaccines. She was a member of the team that developed the first worldwide vaccine manufactured in plant cells. Her company has received grants from the U.S. Department of Defense for emergency response vaccines and from the state of Nebraska to develop avian flu vaccines.

Douglas "Doug" Richmond, J.D., Olathe, received a Bachelor of Science in physical education from FHSU in 1980. He went on to earn a Master of Arts in education administration, curriculum and instruction from the University of Nebraska, Lincoln, in 1981, and a Juris Doctor from the University of Kansas School of Law, Lawrence, in 1989. He is managing director of the Global Professions Practice of Aon Risk Services, the world's largest broker of insurance for professional services firms.

His career began in education, as a residence hall director and assistant football coach at Nebraska Wesleyan University, Lincoln. After that he was assistant dean of students and director of residence life at Eureka College, Eureka, Ill., and an assistant director for residential and judicial affairs at Vanderbilt University, Nashville, Tenn. His legal career began in 1989, when he joined Armstrong Teasdale LLP, Kansas City, Mo., as an associate. He was elected a partner in 1995, when he was first eligible. In 2004 he joined Aon as senior vice president and became managing director in 2011.

Michael Staab, J.D., Winnetka, Ill., is co-CEO and co-founder of Innovative Rx Strategies, LLC, one of the premier pharmacy benefit management consulting firms in the United States. He received a Bachelor of Arts in history from FHSU in 1978; a Juris Doctor from Drake University Law School, Des Moines, Iowa, in 1981; and a Master of Laws degree in health law from DePaul University College of Law, Chicago, in 1993.

His legal career began in Boise, Idaho, litigating insurance defense cases and later representing contractors, suppliers, owners and developers in construction cases. He opened a private practice in Boise in 1983, taking personal injury, medical malpractice, family law and criminal cases. From 1985 to 1996, he practiced law in Salt Lake City and Chicago on a wide variety of cases. In 1996 he began specializing in health and medical law, first as a partner in a Chicago firm and then with CVS Caremark Inc. in Northbrook, Ill. In 2008 he founded Innovative Rx Strategies to help employers, health plans, governmental agencies and third-party administrators save money on prescription drug costs.

YOUNG ALUMNI AWARD
Benjamin "Ben" Markley, D.M.A., Laramie, Wyo., received a Bachelor of Music in piano performance from FHSU in 2005, a Master of Arts in jazz performance and composition from New York University in 2007, and a Doctor of Music Arts in jazz studies from the University of Colorado, Boulder, in 2010. Markley is the director of jazz studies at the University of Wyoming. He is also a jazz pianist and composer. He has performed with internationally acclaimed jazz artists across the globe, released more than 15 commercial recordings and published a variety of vocal jazz and big band arrangements.

Markley has also written a book, A Practical Approach to Improvisation: The David Hazeltine Method, which is finding use as a textbook. His career as a teacher includes positions on the faculty of New York University, the University of Colorado and Colorado State University. He has also taught online classes for Fort Hays State and at FHSU's summer Music Camp. Along with his career in education, he is still an active performer, playing several times a week in the Denver and Fort Collins area.

NITA M. LANDRUM AWARD
Brenda (Frazier) Reeve, Garden City, part owner of Reeve Cattle Company, graduated from FHSU in 1979 with a Bachelor of Science in health, physical education and recreation. She taught physical education in Garden City USD 457 schools before becoming a business owner. She has been very active in numerous school, church and civic organizations but has always been ready to lend a hand, host or sponsor events, sometimes both, for FHSU Alumni events in the Garden City area. She has also been a hostess to visiting FHSU representatives. Reeve has been a proud volunteer, supporter and donor to Fort Hays State for more than 20 years.

She is a current member of the FHSU Foundation Board of Trustees, having served since 2004. Within the Foundation, she has served on numerous committees: Scholarship; Wooster Society; Leadership Circle; Tiger Club; and Difference Makers. Her work has helped provide international travel opportunities for students as well as send students to national conferences, and she has been a large part of creating, with her work and funding, the university's southwest Kansas area scholarship programs.

Nominations are accepted each year for qualified candidates. Visit www.goforthaysstate.com/awards for more information.

Established in 1916, the Fort Hays State University Alumni Association serves FHSU graduates by identifying needs and providing solutions. More than 63,500 graduates live throughout the United States and in 77 countries.

For information on how to participate, contact the Alumni Office at 785-628-4430, toll free at 1-888-351-3591 or by email at alumni@fhsu.edu.