FHSU building dedications set for Homecoming 2017 weekend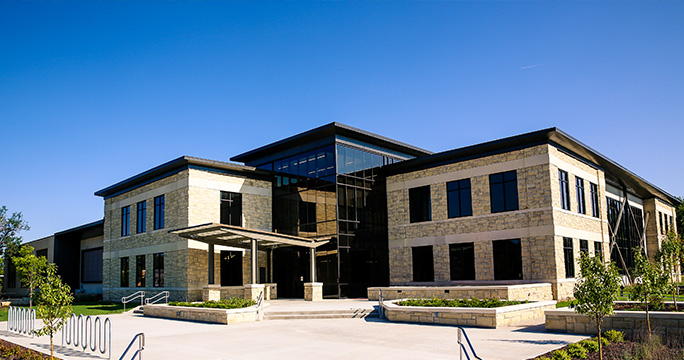 09/30/17
HAYS, Kan. - The final two ceremonies celebrating the opening of new buildings this fall on the Fort Hays State University campus will be held on Homecoming 2017 weekend.

The dedication of the Center for Applied Technology will take place at 9 a.m. Friday, Oct. 6, outside the main entrance of the building.

Scheduled for the next morning, at 10:30, is the celebration of the opening of Tiger Village, a residence hall for three Greek organizations and a sophomore learning community. That will be held in the parking area south of the building.

The 58,000-square-foot CAT building is home to the Department of Applied Technology and the Department of Art's sculpture program. It is located northwest of the Memorial Union, just off of Eighth Street on College Drive. The new building replaces Davis Hall, which was built in 1952.

A glassed-in atrium greets students and guests to the CAT building, which includes numerous laboratories ranging from woodworking and metalworking to plastics, robotics and computer-aided design, as well as studios for sculpture, blacksmithing and metal foundry.

The 96-bed Tiger Village is located north of Lewis Field Stadium, at the corner of Elm Street and Lewis Drive. It houses members of the Sigma Phi Epsilon fraternity, Delta Zeta and Sigma Sigma Sigma sororities, and the Second Year Experience Learning Community.

The public is invited to both events, which will include refreshments and a tour of the buildings.
On both days, a dedicated shuttle will provide transportation from the Robbins Center on the far west side of campus to the location of the ceremony a half hour prior to and a half hour after the event.

Guests are encouraged to park at the north end of the Gross Memorial Coliseum parking lot and walk across Gustad Drive to the shuttle stop at the Robbins Center.

The Homecoming dedications will mark the third and fourth of their kind this semester. In August, FHSU dedicated its new track and field complex, featuring the Alex Francis Track. A ceremony celebrating the opening of a new 406-bed residence hall, Victor E. Village, was held earlier this month.