A chance to be part of FHSU football history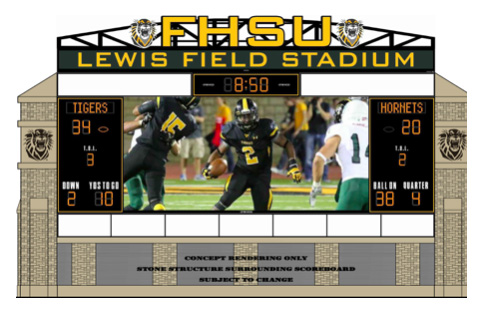 10/04/17
By Diane Gasper-O'Brien
University Relations and Marketing
HAYS, Kan. - Numerous players wearing jerseys that numbered in the 40s for Fort Hays State University football since the inaugural Tiger Auction in 2010 have garnered All-America honors or set school records, etching their names in Tiger football history.

Now, Tiger fans have an opportunity to be part of Fort Hays State football history as well.

Item No. 40 at the eighth annual Tiger Auction in August sparked an All-America effort from Fort Hays State University supporters at the record-setting event.

They donated more than $80,000 to Item 40 - a limestone structure designed to surround a new video board at Lewis Field Stadium - en route to a record auction total of nearly $240,000 on the evening. The video board is scheduled for installation in December following the 2017 football season.

Donations have continued to roll in after the auction, and fundraising for the project is ongoing. Donors with amounts of $250 or more will be recognized on a plaque on the limestone structure surrounding the massive, 46-foot tall by 63-foot wide video board.

FHSU Athletic Director Curtis Hammeke said there is no deadline for accepting donations for the wall. To make a donation to the video board project, contact Hammeke at (785) 628-4050.

"Everything is ongoing," Hammeke said. "You're either raising money for a future project or finishing up an existing one, but there is a constant need for updating facilities."

Item 40 is usually designated for a specific item of need for the athletic department. In addition to helping current student-athletes hone their skills in representing their university, the new and improved facilities also help in recruiting.

"The purpose of having state-of-the-art facilities are two-fold," Hammeke said. "There's the practical purpose of day-to-day use in an improved facility, and it's helpful in the recruiting process of attracting quality student-athletes and coaches to represent our university."

Other items designated as the Tiger Auction's No. 40 over the years have been improvements to facilities and scholarships.

"It's all about the student-athlete experience," Hammeke said. "Whether it's facilities or operational needs or scholarships, everything comes back to the benefit of our student-athletes."

One of the largest donors this year was Hays businessman Don Bickle. Bickle smiled as he sat in the facility that bears his name along with that of his late friend, Bob Schmidt. For the first time, the auction was held in the Schmidt-Bickle Indoor Training Facility.

Besides holding hundreds more people than the auction's former location (a limit of 450 could attend previous auctions in the Memorial Union's Fort Hays Ballroom), the training facility offered a unique atmosphere.

"I went out early to look at it, and it was flat beautiful," Bickle said of the new location for the auction. His wife, Chris, was shocked at the transformation of a spacious indoor football field into a high-class dinner hall.

"It was elegant," she said. "What set it off were the cloth covers on the chairs."

The Bickles are members of "Difference Makers," a premier sports club of more than 30 donors who contribute a minimum of $5,000 annually to Tiger athletics.

The Bickles' generosity is widespread and not only touches athletics but numerous other organizations around campus as well. But they love following the Tigers. Both Don and Chris Bickle are approaching their 90th birthday, but they still are familiar faces at Tiger athletic events.

"I think it's so important to support your local university," Don Bickle said. "I think some people don't realize what Fort Hays State and (Hays Medical Center) contribute to the economy of Hays."