FHSU honorary alumni family of the year: 'Once a Tiger, always a Tiger'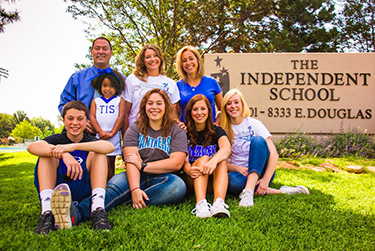 10/05/17
By Diane Gasper-O'Brien
University Relations and Marketing
HAYS, Kan. - The Milt and Marti Dougherty family has been involved with Fort Hays State University since the reign of the first president in school history.

So it seemed only natural for Danielle Dougherty Durham, a fifth generation FHSU graduate, to throw her family's name in the hat for Honorary Family of the Year recognition, a new award sponsored by the FHSU Alumni Association.

The Doughertys and their ancestors and extended family seemed the perfect choice for the selection committee as well, what with one of their family members dating back to FHSU's second graduating class in 1905.

Thus, the Doughertys, who live in Wichita, were chosen to receive the inaugural award and will serve as parade marshals for the 2017 FHSU Homecoming parade Saturday. The family will be recognized at halftime of that evening's Homecoming football game between FHSU and Pittsburg State University at Lewis Field Stadium.

"The Fort Hays State Alumni Association is pleased to honor the Milt and Marti Dougherty family as the inaugural family of the year," said Debra Prideaux, FHSU executive alumni director.

"With five generations of Tigers spanning the entire history of the university, they are an ideal choice for this new award," Prideaux added. "Their family's commitment to Fort Hays State University is representative of multitudes of families whose FHSU pride runs deep through many generations."

About 25 Dougherty family members will be on hand, following Milt and Marti down Main Street in Hays for the 1 p.m. parade. Most, if not all, will be wearing black and gold.

"That's a pretty common Christmas present, something to do with Fort Hays State, when you have kids who have been going there for some time," Milt said.

Included in group in the parade will be all four of Danielle's grandparents, Charles and Evah Dougherty from Logan and Max and Marge Meuli from Ashland, three of whom attended FHSU.

Starting with Dr. H.R. Turner, class of 1905, family members have attended school at FHSU during the reign of eight of FHSU's 10 presidents during a time span of more than 100 years.
While earning numerous degrees from Fort Hays State, Dr. Turner's descendants participated in interscholastic sports, intramurals, music, student government and theater.

The family has continued to support FHSU long after graduation as both sides of the family have created scholarships to benefit Fort Hays State students.

Danielle said that stories during family get-togethers usually involve something about Fort Hays State. She said one of her favorite stories was one from her grandfather, one she finds hard to believe.

"My Grandpa Charles always brings up the fact that when his dad (Walter Dougherty) was going to school, they were working on building student housing, so for a while they slept in a tent. I just can't imagine."

In addition to reminiscing about the days of old, Danielle and her husband, Jacob Durham, can talk about the Fort Hays State of today.

Between them, Jacob and Danielle have earned three FHSU degrees since 2014 and are passing along the legacy to Danielle's four younger siblings, two of whom are current FHSU students. Danielle's oldest sister, Deidra Tweedy, also has taken classes at Fort Hays State, while younger sister Reagan is currently a senior exercise therapy major, and Jacki is a sophomore organizational leadership major.

Jacki is set to participate in a foreign exchange program to Ireland next semester.

"We've pretty much spanned the entire Fort Hays State experience, from living in a tent to living overseas," said Milt, who earned his bachelor's and master's degrees from FHSU and now is head of The Independent School, a private school that serves students from preschool through grade 12 in Wichita.

Independent also has franchised two private schools in China, similar to the model used by Fort Hays State, which serves students at two Chinese universities.

"Fort Hays State continues to impact how I do things," Milt said.

The Dougherty sisters' youngest sister Naomi, a 7-year-old second-grader, already says she is following in her older sisters' footsteps in 10 years. Their only brother, Matt, a junior in high school, has yet to decide where he will attend college.

"We're working on him," Danielle said with a laugh.

Danielle got her taste of FHSU firsthand, early and often. She grew up and attended school in Little River, home of the legendary prep girls' basketball program that won 91 consecutive games and four straight state championships during the mid-1990s while competing at the Class 1A state tournament at FHSU's Gross Memorial Coliseum.
Nearly the entire town followed the Redskins, including the Dougherty family.

"We would walk around the coliseum upstairs and look at the photos," Danielle said. "My great grandpa Pete (Meuli) is in one of the basketball pictures - pretty cool."

Danielle said she decided to attend community college out of high school because Hutchinson is only about 30 miles from her hometown. While deciding where to move on to a four-year college, FHSU kept popping up on Danielle's radar.

In addition to all the family history, Danielle said she felt comfortable with familiar surroundings.

"My parents never pushed me to go there," she said. "I knew I didn't want to be in a classroom with 400 other people. I had been to Fort Hays State so much growing up, it already felt like home."

Such was also the case for Danielle's dad after he graduated from Logan High School in 1982.
"That's where everyone went, and that's where all my family had gone," Milt said. "It never really crossed my mind to go anywhere else. And it's been a good choice - for all of us."

At FHSU, Milt met his future wife, Marti Meuli from Colorado, again following a similar track as Marti's parents and grandparents, who also met their future spouses at Fort Hays State. Marti's grandparents were introduced to each other by Alex Francis, for whom the track at FHSU's track and field complex is named. Francis graduated from FHSU in 1931 and went on to become a legendary cross country and track and field coach at his alma mater.

Marti's FHSU degree was in elementary education, and she now teaches kindergarten at The Independent School.

Her step great-grandfather was H.R. Turner, who was senior class president and was one of nine in the second graduating class of the Western Branch of the Kansas Normal School in 1905. Marti's parents and grandparents all attended FHSU, most of them earning education degrees. Numerous other members of the Doughertys' extended family have either attended FHSU in the past or are current students.

Still, Milt said he doesn't think his family is all that different from a lot of Tiger families.

"I think we are kind of the typical Fort Hays State family," he said. "We went to school, worked our way through college, had a family and have contributed to society. There are lots of representative families like that of this great school. We just happen to be one of them."

With two daughters currently attending Fort Hays State, Milt has been able to watch the university's progress as it continues to update with new facilities and the latest technology. He said he is impressed how his alma mater has been able to "maintain that western Kansas supportive atmosphere while also having a global presence."

Danielle said she is looking forward to showing her grandparents around campus and watching their surprise at nearly every turn.

"Even since I've been there, there are so many new buildings," Danielle said. "What's really cool is that a lot of the buildings are named after people my grandparents knew back when they were in school. Fort Hays State is so ingrained in our family, so this is such an honor. My grandparents are still so connected to Fort Hays State, so this award is a nice nod to them."