Hays Symphony's Halloween party about to happen again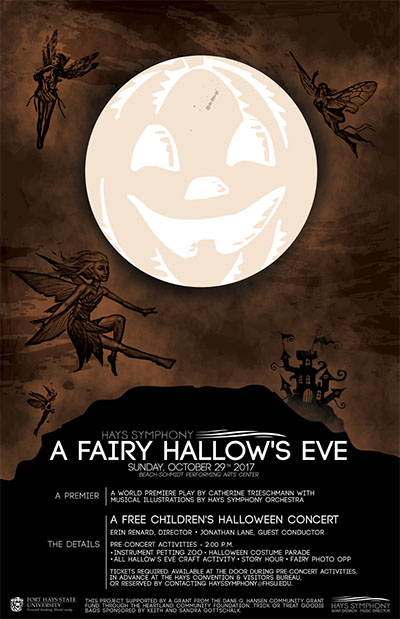 10/12/17
By Ruth Firestone
Hays music supporter
HAYS, Kan. - Woo-hoo! and Boo! It's time for the second annual Hays Symphony Orchestra Halloween extravaganza, and it's going to be greater than ever. Tickets are free but required, so pick them up soon as possible at the Hays Convention and Visitors Bureau.

Come to the FHSU Beach-Schmidt Performing Arts Center on Sunday, Oct. 29, for "A Fairy Hallow's Eve," a spoof on part of Shakespeare's "Midsummer Night's Dream." You'll want to get there at about 2 p.m. for pre-concert family fun.

The first 300 children to arrive will receive trick-or-treat goodie bags after the show. Everyone should wear a costume. For the first hour, there will be an instrument petting zoo, a fairy craft station, a drumming circle, and a Halloween story time. Then, at 3 p.m. the Halloween Costume Parade around Sheridan Hall will begin. For this, young children need to be accompanied by an adult.

The concert proper will start at 3:30 p.m. with the world premiere performance of "A Fairy Hallow's Eve" by Catherine Trieschmann, a nationally known dramatist who lives in Hays. Erin Renard of Barton Community College and FHSU will direct actors Brenda Meder, Bill Brown and other Hays favorites - even Mayor Shawn Musil will make a cameo appearance.

Guest conductor Jonathan Lane, double bass player and music educator, will lead the orchestra in musical illustrations of the action by Saint-Saens, Mozart, Tchaikovsky and others.

The combined music-drama, commissioned by the symphony, is sponsored by a grant from the Dane G. Hansen Foundation through the Heartland Community Foundation. Thanks also go to: Keith and Sandra Gottschalk for financing the trick-or-treat goodie bags; the Hays Arts Council for providing rehearsal space; the FHSU Student Chapter of the National Association for Music Education for running the Instrument Petting Zoo and other activities; and the Hays Symphony Guild for funding and volunteer support.