Kansas Startup for budding entrepreneurs set for FHSU weekend of Nov. 10-12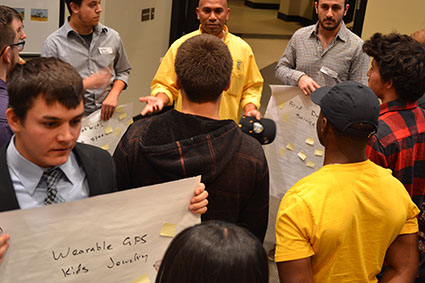 10/23/17
HAYS, Kan. - Registration is now open for Kansas Startup Weekend at Fort Hays State University, fall 2017 edition, a time for entrepreneurs to meet, share ideas, and launch new businesses.

Led by the university's W.R. and Yvonne Robbins College of Business and Entrepreneurship, Kansas Startup will be from Friday, Nov. 10, to Sunday, Nov. 12.

"This three-day event is open to anyone with a great idea and the desire to make that idea a reality," said Henry Schwaller, instructor of management and co-organizer of Kansas Startup. "The weekend is a 48-hour, hands-on experience where anyone interested in starting a business or non-profit can find out if their idea is viable."

Hopeful entrepreneurs begin by making their pitches over an open mic on Friday - bringing their best ideas and hoping to inspire others to join their teams. Saturday and Sunday, the focus is on developing the business idea and building a viable product. On Sunday evening, teams present their product to a panel of experts for feedback and prizes.

This is FHSU's sixth Kansas Startup. The first was hosted in 2013. The event has grown from 31 participants in its first year to more than 70 in 2016, making it the largest entrepreneurial event in the state of Kansas. Schwaller said that the success of Kansas Startup is based on participants' experiences.

"The response to all of our events has been incredible," he said. "Participants work hard, learn a lot about starting a new venture and enjoy the outcome. Teams work Friday evening to Sunday evening, many taking few breaks and little sleep. FHSU faculty, alumni and local business owners provide input, suggestions and advice to the teams as business plans were developed. The event is challenging - and it's fun, too."

On Saturday, a volunteer team of business, legal, and design coaches will be available to provide assistance, advice and feedback. The event concludes on Sunday evening, after participants present their final concepts to a panel of judges.

Participants must register. Partial scholarships will be available on a competitive basis for college students. Participant presentations will be open to the public free of charge at 5 p.m. Sunday. All events will be in the Robbins Center.

For additional information and registration, visit the Hays Startup Weekend website kansasstartup.com.