SCCC, FHSU make a smoother path for transfer students with new articulation agreements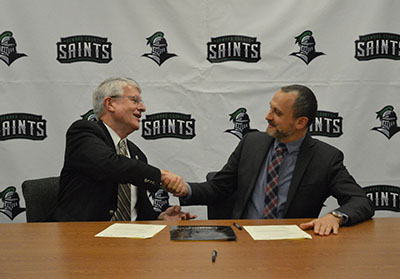 11/30/17 
LIBERAL, Kan. – Seward County Community College and Fort Hays State University signed agreements today to create a partnership to provide students with the opportunity to attain expanded bachelor degree options in 15 degree programs, from agriculture to social work to technology leadership.
The presidents of the institutions, SCCC's Dr. Ken Trzaska and FHSU's Dr. Andy Tompkins, signed the articulation agreements at a ceremony Wednesday on the SCCC campus.
SCCC and FHSU have partnered in many academic endeavors for more than 20 years and the latest agreements set a course for the future. Both Trzaska and Tompkins agree that this is another step in benefitting the students and communities of both Seward and Hays.
"The journey of our students at Seward County Community College is quite remarkable," Trzaska said. "We serve a majority of first-generation students. An opportunity such as this to provide those students an opportunity to continue their education at Fort Hays State University is equally remarkable. We're grateful for this partnership. I hope this is the beginning of much, much more to come between both of our organizations.
"We value this relationship tremendously," Tompkins said. "We have a real vested interest in increasing opportunities for these students. There's a mutuality. There's great opportunity for your students and great relationships and partnerships."
The articulation agreements, also known as transfer guides, spell out what coursework transfers from SCCC to Fort Hays State, which allows students to plan their educational program across both institutions.
Degrees in the partnership include:
Bachelor of Science in criminal justice
Bachelor of Science in agricultural business
Bachelor of Business Administration
Bachelor of Science in biology
Bachelor of Science in mathematics
Bachelor of Science in psychology
Bachelor of Science in technology leadership.
Bachelor of Social Work 
Many of these degrees are expanded with concentrations in certain areas.
Cutline: Dr. Andy Tompkins, left. Dr. Ken Trzaska, right.