Wizard of Oz collection on display at FHSU's Forsyth Library, on loan from Tiger alums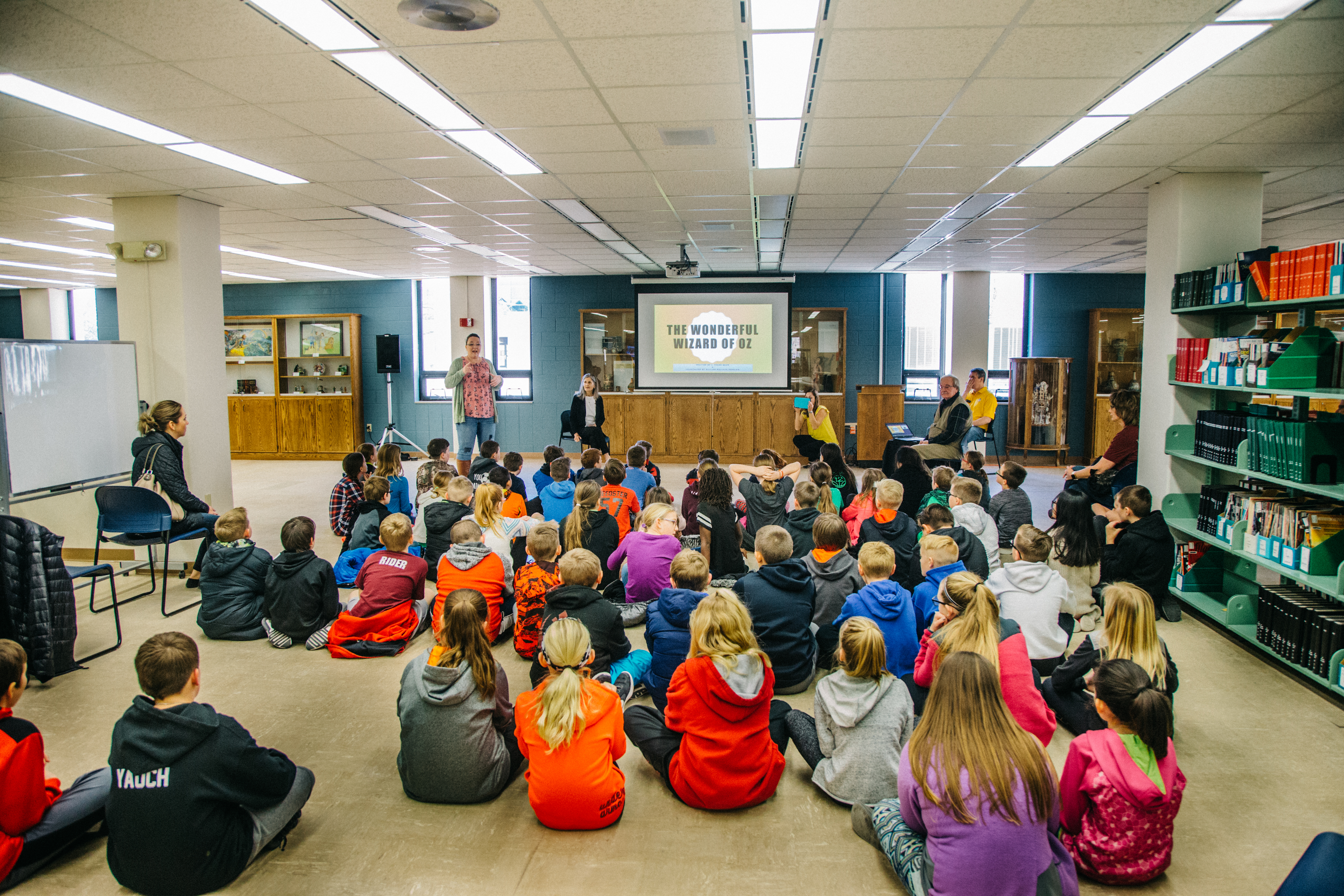 02/09/18 
By Diane Gasper-O'Brien
University Relations and Marketing
HAYS, Kan. – There probably aren't many Americans, especially those from Kansas, who don't associate the phrases "follow the yellow brick road" and "there's no place like home," with "The Wizard of Oz" movie.
Anyone visiting Fort Hays State University's Forsyth Library through mid-March can follow some large yellow brick footprints to an Oz collection owned by FHSU alumni Larry and Lyn Fenwick, a retired couple from Macksville.
A close look at one of six display cases on the main floor of the library will teach viewers a lot they might have never known, or even imagined, about the 1939 musical fantasy movie that was based on a book written by L. Frank Baum and published in 1900.
The Fenwick collection will be on display through March 16 and includes a later edition of Baum's book, "The Wonderful Wizard of Oz."
Larry and Lyn were high school sweethearts who married their freshman year at Fort Hays State.
After both graduated from FHSU in 1966, Larry served in the U.S. Air Force and was stationed in New York State and Massachusetts. He then began a 35-year career in investments, which began in Texas and continued in Atlanta, Ga., and Charlotte, N.C., during which he frequented New York City.
On one of those trips to NYC, Larry visited a bookstore called Books of Wonder and learned about the series of 14 Oz books by L. Frank Baum, published from 1900 through 1920. That visit in the 1980s is how the Oz madness all started for the Fenwicks.
Lyn began at FHSU as an art major but quickly changed to education, without ever giving up her love for art. After teaching for a few years, she earned her doctorate in law from Baylor University School of Law. She practiced law in Texas before shifting her focus to writing and publishing two books. She currently has a weekly blog and is working on a manuscript about a Kansas homesteader and the Populist Movement.
Collecting Oz memorabilia seemed a perfect fit for the Fenwicks.
"Wherever we met people from other states, when they learned we were from Kansas, they would ask us about Dorothy or tornadoes," Lyn said.
"We always kept our eyes open for special Oz objects, especially when we traveled," Larry said, adding, "several of our Oz collectibles were Christmas gifts from Lyn's family and occasionally, gifts from friends."
Before they knew it, one of the bedrooms in their home had turned into a Wizard of Oz room.
The Fenwicks have no children, and with both being FHSU grads, they began visiting with folks from the FHSU Foundation about ways that they could support their alma mater. One day last spring, Jon Armstrong of the FHSU Foundation took along his wife, Lynette, to a meeting at the Fenwicks' farmhouse near Macksville, where they retired in 2014.
Because of Lyn's love for books, Deb Ludwig, dean of Forsyth Library, was quickly involved in the Fenwicks' discussions. Larry suggested to Jon Armstrong and Ludwig that perhaps some of his and his wife's Oz collection be displayed in connection with the Encore performance of "The Wizard of Oz" coming to FHSU in February.
"On behalf of Forsyth and Fort Hays State, we appreciate them giving us the opportunity to share it," Ludwig said.
Lynette Armstrong, a librarian in Hays USD 489, became enamored with the Fenwicks' collection, especially Baum's books. She started a Wednesday luncheon book club for fifth-graders at Wilson Elementary School, and her first book for them to read was Baum's "The Wonderful Wizard of Oz." She also arranged to take all three of Wilson's fifth-grade classes to Forsyth Library to hear Lyn speak and to get a glimpse of the Oz collection.
"I knew most of the kids probably had seen the movie but not read the book," Lynette said, "and there are some things different from the book and the movie."
For example, Dorothy's slippers in the book are silver instead of ruby red.
"Movie legend has it that when an MGM executive saw the proposed costume for Dorothy, with the silver slippers, he demanded something that would stand out on the screen instead," Lyn explained. "The ruby slippers were the result of his demand."
A big difference between the book and movie is the movie portrayal that Dorothy's trip to Oz was a dream. In the book, Baum leaves the perception that Dorothy might have visited a real Land of Oz.
"Baum's goal was to create an American fairy tale," Lyn said. "He wanted children to use their imaginations. I believe the movie went too far by implying that Oz wasn't a real place and Dorothy had only had a dream. The movie seemed to tell children it had only been a dream rather than letting children believe what they chose."
In addition to some of Baum's books, the Fenwick exhibit features Oz Jack-in-the-boxes, an Oz chess set, figures and posters, music boxes and snow globes, a lunch pail, salt and pepper shakers – and so much more.
Their collection also includes Lyn's handcrafted dolls of the four main Oz characters as well as other examples of her art. There is even a Christmas tree covered with Oz ornaments.
A Wizard of Oz puzzle from a painting by Scott Gustafson sits on the library's puzzle table where students often stop by to fit in a few pieces in-between classes.
One of Larry's pride and joys is an original drawing that Lyn created for a youth ballet production. The drawing was used on posters, programs and T-shirts.
Lyn posted photos and comments about the Forsyth display on her blog at www.lynfenwick.blogspot.com. She said she is pleased whenever people become excited about the book or the movie – as long as they get to enjoy the wonder of Oz.
"I think Kansans tend to take Oz for granted, without realizing how much people outside of Kansas love the Wizard of Oz," she said. "Oz is such a great ambassador for our state."
Cyndi Landis, outreach specialist at Forsyth, agreed.
"Oz is embedded in our Kansas culture," she said. "You can't go to an airport without being reminded that 'there's no place like home.' When we heard about the Fenwicks' Oz collection, we were interested in the wide appeal of L. Frank Baum, the impact of his literary works on young readers and researchers and the Kansas connection to the classic tale. The Wizard of Oz reminds us to use our brains and our hearts and to have the courage to dream."
Lynette Armstrong said she thinks the Oz display is another good opportunity for community members to visit the university, "especially with the Fenwicks being alums and the book being so interesting."
She encourages people to check out the exhibit, which is open during regular Forsyth Library hours, which can be found at www.fhsu.edu/library.
"I hope a lot of people are able to get to Forsyth to see it," Lynette said. "I think it's a win-win-win situation for everyone."