FHSU rodeo club seniors set to ride into the future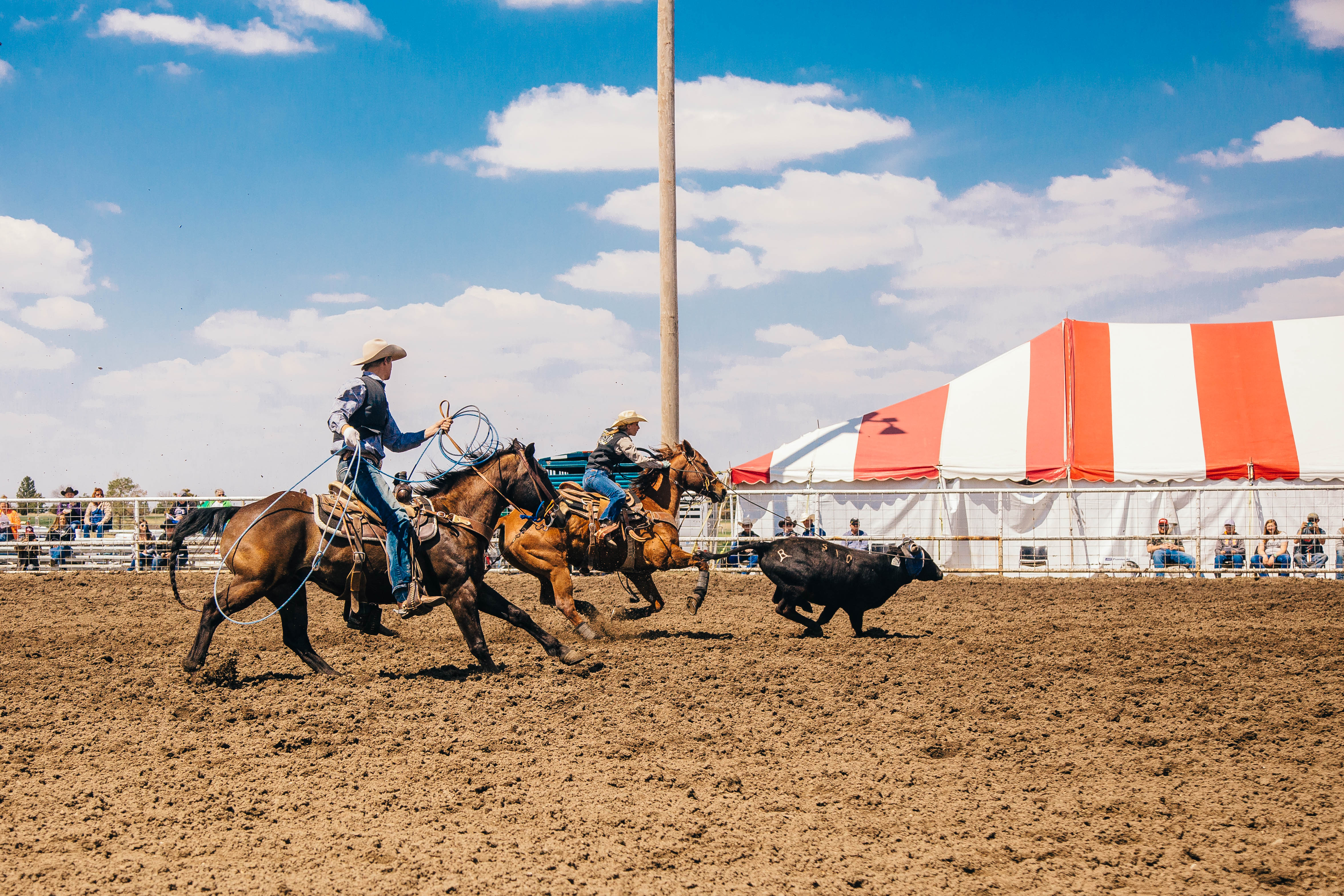 04/25/18
By Diane Gasper-O'Brien
University Relations and Marketing
HAYS, Kan. – They took off their Fort Hays State University rodeo vests for the final time Sunday. But Matt Rezac and Kaitlyn Dinges agreed that being part of the rodeo team for their entire college careers was a ride they will never forget.
Rezac and Dinges will graduate in May and move on to their next venture.
Rezac will return home to Onaga to work in his family business, Rezac Land and Livestock. Dinges, a native of Ness City, will begin work as a grain merchandiser in Leoti for Archer-Daniels-Midland Co. while working online toward her master's degree in agricultural business and risk management.
Sunday, Rezac and Dinges were two of eight seniors recognized at the finals of the 52nd annual Fort Hays State NIRA Rodeo at Doug Philip Arena.
"I think that's when it finally hit me that I'm graduating in three weeks," said Dinges, who will graduate summa cum laude with a perfect 4.0 grade point average. "I took off that vest and thought, 'I'll never go into the arena with my Fort Hays State rodeo vest on again.' Fort Hays has been my life the last few years, so it's kind of bittersweet."
Dinges said she will take with her many life lessons she learned while earning degree and a certificate in economics in just three years. She also held down a campus job while spending four or five hours a day at the rodeo arena.
"I learned so much while I was here," she said. "I'll always hold that dear in my heart. It's made a big impact on my rodeo career – on my life."
Dinges didn't make Sunday's finals in her two events (breakaway roping and barrels), but she took it all in stride.
"You have to realize that at any time that it might be your last run in the arena," she said. "Of course, you want to do well and win, but you also have to be thankful to just be able to compete."
Dinges and the rest of the FHSU club got to cheer on one teammate who made it to Sunday's finals. Peyton Mentzer, a junior from Ensign, finished third in the average in team roping.
"We're all part of a team," Dinges said, "so even if your weekend wasn't up to par, you're still going to cheer on your teammates. We all practice together, so your teammates' success is your success."
Dinges will continue to compete in some amateur rodeos this summer with plans to buy her pro card in two years.
After graduation, next up for Rezac is his wedding, set for July 21. Then, he and his new bride, Alexa Schindler, will begin their life together on his family ranch. Schindler, who graduated from FHSU in December 2017 with a degree in teacher education, is a second-grade teacher at Onaga Elementary School.
Rezac, whose speciality is team roping, doesn't plan to continue rodeoing but will take part in team roping contests. He never qualified for nationals during his college career, but he said he will never forget his time at Fort Hays State.
"It's definitely kind of sad," he said of leaving rodeo behind. "But I've made so many good memories and had a lot of fun. It's definitely something I'm going to remember."
Rezac began team roping as a youngster before getting involved in rodeo in high school and hadn't really thought much about participating in college.
"But a high school buddy of mine had some family members who came out here and they liked the rodeo program," he said.
Rezac came to FHSU for a college visit and "fell in love with it." He immediately decided to join the rodeo club while working toward his degree in animal science and even served as the club's president the past two years.
Like Dinges, Rezac said his involvement with the rodeo club was definitely one worth writing home about.
"It teaches you a lot of responsibility," he said. "You've got to take care of your horse every day, even when it's blizzarding. You're all in this together, and you get to know each other really well."
Dinges said she has been riding horses since she could walk and has been competing in – and winning at – rodeos since she was a young girl. She qualified for the national high school finals three years in a row.
"I started over with horses when I got to college, and it takes years to develop that bond with them," she said. "I feel it's a goal you are looking toward in college rodeo, to make it to nationals. But a lot of it, too, is to better your horsemanship skills, and I learned a lot while I was here in Hays."
To hear Dinges talk about her rodeo experience, one might think she had won a national championship.
"My experience has been absolutely amazing," she said. "I tried to use all the resources that Fort Hays State allows all the students."
"I can't imagine any better instructors," she continued. "They've opened so many doors for me and allowed me opportunities that I've pursued. I have extremely mixed emotions about graduating in May. I'm excited to graduate and go out into the real world, but I am definitely going to miss Hays."
Cutline: Ensign junior Peyton ropes a calf in Sunday's finals of the FHSU Rodeo en route to finishing third overall in team roping.