Another sense of accomplishment for blind student as she graduates from Fort Hays State University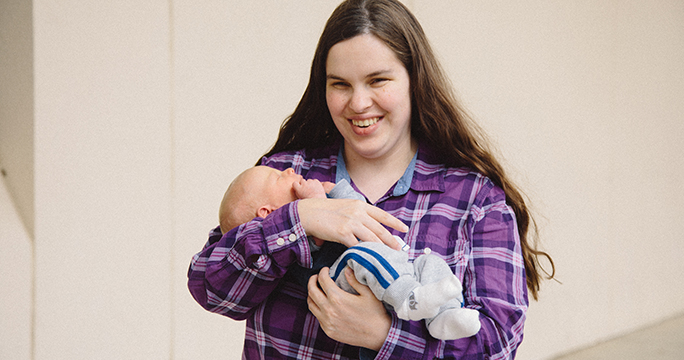 05/11/18
By Diane Gasper-O'Brien
University Relations and Marketing
HAYS, Kan. – It's going to be a long weekend for Andrew and Paige Todd with three straight days of big events Friday, Saturday and Sunday.
But it's a weekend they will cherish for a long time, especially by the time they get to Sunday.
The young family will make the hour trip from Grainfield to Hays Friday evening for Andrew's graduation from Fort Hays State University, where he will receive his bachelor's degree in agricultural business.
Early the next morning, they will be back in Hays for Paige's commencement ceremony at FHSU. She will walk across the stage at Gross Memorial Coliseum accepting her diploma for a bachelor's in English.
Sunday, there probably won't be much time for resting at home as Paige celebrates her first Mother's Day. The Todds' son, Jeremiah, was born April 9.
This might seem not all that out of the ordinary for a young married couple completing their college educations. But the Todds are not your ordinary young married couple.
Paige will be doing all this celebrating with four of her five senses. Paige, who was born 15 weeks premature back in November of 1994, is legally blind. She can see some colors and shapes but says "everything is blurry."
That hasn't stopped the Gove County woman from doing – well, just about anything she has wanted to.
Graduate from Wheatland/Grinnell High School in Grainfield with honors. Check.
Earn an associate's degree from Colby Community College. Check.
Get married. Check.
Four and a half weeks ago, Paige added giving birth to a healthy baby boy to that list of accomplishments. Saturday, it will be crossing that stage and accepting her diploma, a sign of earning her bachelor's degree.
For three semesters, Paige lived in Wooster Place apartments and navigated the FHSU campus. Sometimes friends helped her find her way, but most of the time Paige could be seen walking alone with her best friend – a white walking stick. Paige then completed her degree online from home during the final stages of her pregnancy.
Andrew also completed his bachelor's through FHSU's Virtual College after receiving his associate's from Colby Community College. After serving four years in the U.S. Marine Corps, Andrew is back home in Gove County, where he farms and ranches with Paige's dad, Leon Tuttle, and also works part-time as a rural mail carrier for the U.S. Postal Service.
Knowing she would have other responsibilities once her baby arrived, Paige decided to be as active as possible on campus. She took a couple of defensive tactics classes and landed a writing internship. She did editing work for the nursing department and financial aid office.
With her college days behind her, Paige can now concentrate on raising the couple's son – and continuing her part-time job as a proofreader for the Scott County Record.
Rob Haxton, owner and publisher of the Record, emails Paige stories. Using software specifically for sight impaired, Paige listens to the stories being read aloud, right down to punctuation marks.
"I joke with my staff that we have three sets of eyes to look over everything and she does this without any sight," Haxton said. "Paige is a very, very good proofreader, a hard worker and very conscientious."
Paige could write a book on how she improvises in finding ways to accomplish things that sighted people take for granted.
She just might do that, if she has a mind to. She got some good experience in that type of writing this semester in an independent class on blogging under Dr. Cheryl Duffy, professor of English.
Paige's blogs include the joy of finding apps on an iPhone that a flip phone didn't offer. However, switching from a flip phone with buttons she could feel to a touch screen posed other issues.
Much like she has done her entire life, Paige figured out a way to solve that problem.
"Anything that she sets her mind to do she is going to do, and she's going to do it well," said Duffy, Paige's advisor who had her in several classes. "She's good about advocating for herself. She's going to make it happen."
One of Paige's blogs is on the "perks of being visually impaired," focusing on the positive rather than the negative.
"There definitely are things I can't do," she wrote, "or things that could be done better by others. But in this post, I will focus on a few positive things about being legally blind."
In that blog, Paige points out special skills different than a lot of people possess, such as being literate in Braille and the lack of appearance-based impressions of people. Others are ones some people might take for granted, such as the ability to pay attention to detail and unique conversations.
Paige even jokes that "another perk of being legally blind is that no one has ever asked me to drive during a road trip."
Another blog is entitled "How I organized my nursery as a first-time blind mom." She talks about organizing clothing by age, diapers by size and bathing supplies by type. She describes the placement of items, right down to where she has placed the Braille books that she can read to their baby, along with printed books that Dad can read to Jeremiah.
Maybe one day they can read Jeremiah a book his mother wrote.
That wouldn't surprise Paige's parents.
"We always told both our girls they could do anything they wanted to," said Paige's mom, Donna Tuttle. "It was kind of expected to go to college and get a degree. But it was their decision. Paige has always had high expectations for herself."
Those expectations have taken on a new meaning for Paige with her responsibilities as a new mother. But raising Jeremiah will be all in a day's work for Paige.
"There are some things that I probably do slower because I can't see what I'm doing," she said. "My husband changes diapers a lot quicker than I do. But I get it done."
For anyone attending Saturday's graduation, watch for Paige walking across the stage. She will be the barely 5-foot tall woman marching proudly with a white walking stick, head held high. Afterward in the crowd, she will be holding a month-old baby.
Congratulations, Paige Todd, and Happy Mother's Day!